The best tips and tricks for a relaxed check-in at the airport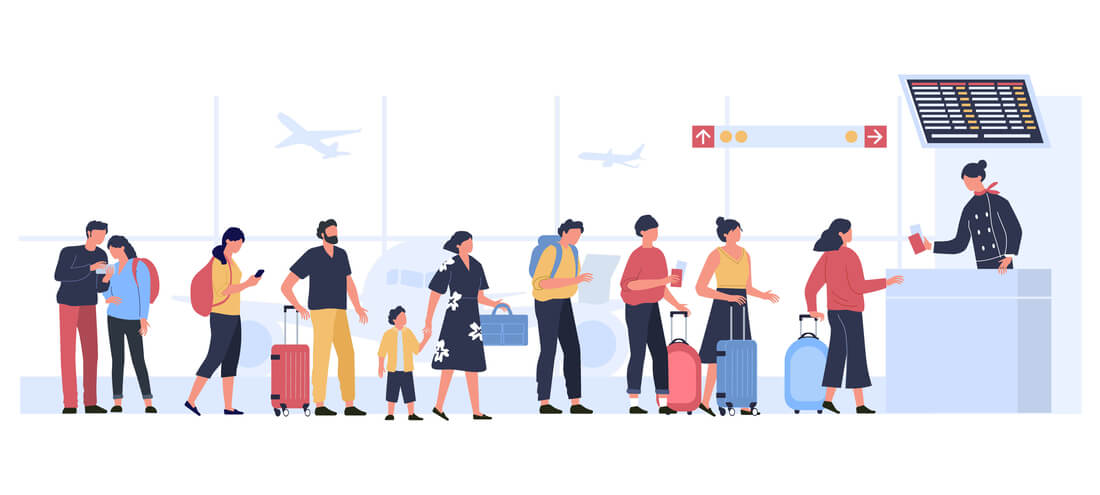 Despite the Corona pandemic, more than 70 million air travellers used the check-in systems at German airports in 2021. The large number of passengers alone does not explain the queues at the check-in counters. The main cause of the long waiting times is often a lack of knowledge about the check-in process. For example, travel documents are not complete, or the rules on baggage limits have not been followed. If then unforeseen problems with the journey cause delays, check-in can become a nerve-wracking affair. To help you check in quickly and without stress, we explain what is important.
Estimate the time you need correctly
A relaxed check-in process stands and falls with time management. You can find information about the check-in times relevant to your flight and the deadlines for dropping off your baggage on the relevant website or using your airline's booking app. The information indicates the latest time by which you should be in possession of a boarding pass and must have checked in your baggage. Most airlines recommend that passengers arrive at the airport between 90 and 120 minutes before boarding. To this must be added
the journey time to the airport,
the search for a parking space,
the transfer by shuttle bus and
the walk to the check-in counter.

Most passengers drive to the airport in their own car. This keeps them flexible and independent, and it is also easier to transport their luggage. However, the arrival time should already include a generous buffer. Depending on the time of day of departure, this can be more or less. In rush hour, for example, delays must generally be expected, while in the late evening hours traffic usually runs smoothly.
You can save yourself the trouble of looking for a parking space if you book one in advance. The parking spaces at an off-airport parking operator are available more frequently and are usually cheaper than the parking spaces belonging to the airport. Our company, McParking, offers parking facilities at 19 German airports that can be conveniently booked online. This not only eliminates the need to search for a parking space, but also the worry about the safety of your vehicle. You also don't have to worry about paying parking fees and a shuttle will take you conveniently to the terminal. You will find the correct departure terminal for your flight in the reservation confirmation. Changes are displayed on the large display boards in the departure halls or via the airline app.
Before departure, check the traffic situation and also take the weather into account. If the parking space is booked and a shuttle will take you to the terminal, you will need the departure times of the shuttle and the duration of the journey. For example, if the shuttle leaves every 20 minutes, then calculate 20 minutes. Find out how long the shuttle takes to transfer you to the terminal and how far it is to the check-in counter. Now you can calculate your departure time from home quite accurately!
Tip: Plan the required time segments realistically and rather too generously!
What do I have to bear in mind on the return journey?
First and foremost, you should plan enough time - just as you did for the outward journey. If the weather doesn't cooperate, especially in winter, stress quickly sets in. If you have enough time, it is not so bad if the motorway to the airport is not clear or if you can only drive at 30 km/h because of black ice. The primary goal of any journey is safety and integrity. Therefore, a buffer should always be planned for your departure so that you don't have to rush.
Once you have reached your flight on time and landed safely at home, you can only hope that your car will start again. Especially in winter, it can happen that the battery has discharged during longer periods of standing and professional jump-starting assistance is required. Caution: In most car parks operated by airports, contact persons are not on site but in the parking control centre far away. So when booking a parking space, make sure that a member of the service staff is always present around the clock. This person can call for help if necessary or - and this should be the rule with reliable parking providers - have his or her own starter kit and assist with starting the car. The parking provider McParking is exemplary here and is always prepared for such emergency situations.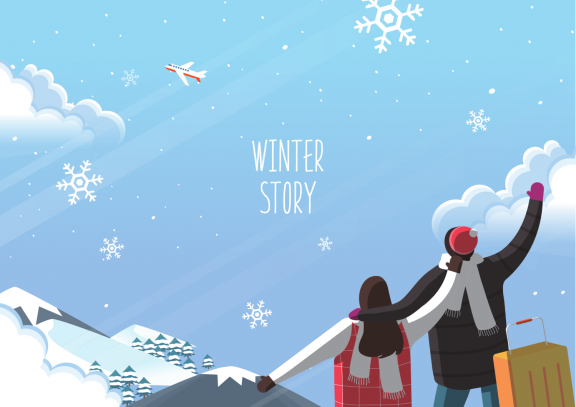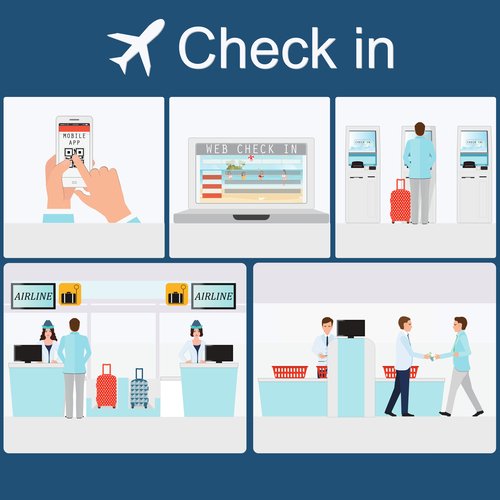 What are the check-in options?
Before each flight, you must check in. This is a process where your booking and the persons travelling with you are allocated a seat on the aircraft and any baggage to be carried can be declared. The result of check-in is a boarding pass that is provided either electronically or on paper. No passenger can board the aircraft without this boarding pass. The boarding pass contains information such as the flight number, the destination airport, the boarding time and the seat number.
Online check-in
Apart from the classic check-in at the counter, most airlines offer online check-in. This works via the airline's website or a corresponding app. On the day before the departure date, the personal data and the aforementioned booking code are entered into the system. Some airlines issue an additional e-ticket number with the booking code, which must then also be entered. You can also take this opportunity to see which seats are still free on the plane and reserve the seats. This is the only way to ensure that you can sit together with your family. At the end of the online check-in, you will see your boarding pass, which you can print out or send to your smartphone.
Tip: Online check-in also works days in advance. The earlier you check in, the greater the choice of seats.
Online you also have the option of pre-ordering a meal for the flight if catering is offered for your flight. For some flights, food is even offered according to your preferences and specialities. In the airports you will also find restaurants where you can have something to eat while waiting for your flight.
Check-in at a machine
In addition to the classic check-in and online check-in, you can also use a check-in machine at many German airports. This is usually located near the check-in counter of your airline. Automatic check-in is done via a touch screen. Here you have to enter your name and booking code. Sometimes you also have to scan your passport or identify yourself with a credit card. You can also select free seats at the machine and print out your boarding pass at the end.
Evening check-in
You are on the safe side if you check in the evening before your flight. This gives you the opportunity to check in your luggage. This is advantageous, for example, if bulky luggage has to be checked in. On the day of departure, you can then go directly to the departure gate in a relaxed manner. However, animals can only be checked in on the day of the flight! Please find out in advance whether evening check-in is possible for your flight.
Check-in at the counter
In addition to the above-mentioned methods of obtaining your boarding pass, the classic personal check-in at the counter is especially necessary if you wish to check in baggage. You can also find out at which check-in counter you need to queue for your flight from a display board in the airport hall. The counters are numbered and well signposted. If you cannot find the counter, ask at the information desk. At the check-in counter, you will need to show your booking number and passport.
Baggage drop-off
At the check-in counter, your baggage will be accepted and weighed. If you have checked in online or at a machine, you must check in your baggage at the dedicated baggage drop-off counter. Here you present your boarding pass or booking confirmation and the ground staff will take your bags and trolleys, weigh them and take care of the rest. Some airports already have baggage machines. The luggage must be placed on a special luggage belt and the boarding card scanned at the machine. If the weight is correct, you can have a band printed out that you have to attach to your luggage. When you are finished, you press a button and the luggage is transported away on the conveyor belt towards the aircraft.
Even if it is no longer mandatory: don't forget to label your luggage sufficiently. However, only the last name, telephone number and possibly the e-mail address belong on the luggage tag. You should leave out the exact address, otherwise it makes it too easy for potential burglars to find their way into your home. Alternatively, the luggage tag can have a cover so that the information is not visible to everyone. Or you can get a digitalised luggage tag with a QR code.
Tip: Take a mobile phone photo of your luggage and note down the weight, dimensions and details on the luggage tag. This can help if something gets lost.
What you should consider with regard to flight luggage
Regardless of whether you check in your baggage at the check-in counter, at the baggage drop-off or at a machine, problems can arise if the maximum weight is exceeded. As a rule, a flight ticket includes a so-called baggage allowance of 20 kilograms. If your suitcase is heavier, but still within the "belt size", you will have to pay for the excess weight. The rates for this vary widely among the airlines. The belt size is a term used in the transport industry and is also used by the airlines. It is 158 centimetres. If your luggage is longer, you will also have to pay an excess baggage charge. If you want to avoid nasty surprises, find out in advance what the maximum baggage allowance is for your flight and stick to it.
Tip: Don't estimate the maximum weight of your luggage, weigh it!
Special and bulky baggage
If you want to take your sports equipment with you on holiday, it is often so-called "bulky luggage", for example skis and a surfboard. When checking in special or bulky luggage, the belt dimension again plays the decisive role: if the sum of length, height and width is greater than 158 centimetres, it is bulky luggage. According to this definition, a pram and a pet carrier are also bulky luggage. As a rule, these items of luggage cannot be loaded onto the plane via an automatic luggage conveyor belt. For this purpose, there are separate conveyor systems where you must hand in your bulky or special baggage. The cost of transport depends on the dimensions, weight and nature of the baggage.
Tip: Sports luggage, i.e. everything needed for practising a sport, is subject to special packaging guidelines and must be pre-registered with some airlines.
Special regulations for people with disabilities
For people with reduced mobility, disability or illness, there is an obligation to carry. Some airlines provide their disabled passengers with specially trained assistance from the time they enter the airport until the plane takes off. Disabled passengers are usually allowed to take wheelchairs, walking aids and other mobility aids with them free of charge. If they are not taken into the cabin but checked in, their weight is not counted towards the free baggage allowance. Guide dogs are also allowed to fly in the cabin without a transport box. However, proof is required certifying the need for an assistance dog.
Tip: If you need assistance due to a physical impairment, notify your airline at least 48 hours before departure!
Not everything is allowed on the plane
Find out in advance what you are allowed to take with you on your flight and especially to your destination country. This applies to both checked and hand luggage. As a general rule, you are not allowed to carry any weapons, not even a water pistol. Furthermore, sharp or blunt instruments, flammable, chemical or toxic substances are prohibited. This also includes, for example, batteries and rechargeable batteries that could leak. Incidentally, the powerbank for charging smartphones and tablets may not be checked in the suitcase. It must go in the hand luggage and must not exceed a capacity of 27,000 milliampere hours (mAh) or 100 watt hours (Wh). The reason for this regulation is the potential fire hazard that a powerbank can pose.
What belongs in the hand luggage?
You are allowed to take your smartphone, tablet, camera, hairdryer and torch in your hand luggage. Liquids and cosmetics such as creams, perfumes or toothpaste in bottles, tubes or jars up to a maximum of 100 millilitres each must fit into a sealable, transparent plastic bag with a capacity of one litre. This plastic bag must be removed from the hand luggage at the security check and checked through separately. Not allowed are aerosol cans regardless of content, razor blades and nail polish remover. Medicines are permitted, including liquid drops and syringes, provided they have been prescribed by a doctor. To be on the safe side, you should have a written confirmation from your doctor with you. Again, each airline has different rules about what is allowed and what is not allowed.
Tip: Take a close look at what you are checking in and what you want to carry in your hand luggage and ask your airline in case of doubt!
You cannot take as much hand luggage as you like into the cabin. Depending on the airline, there is an upper limit for the number, size and weight of hand luggage items. As a rule, you are allowed to take one piece of luggage weighing up to seven kilograms.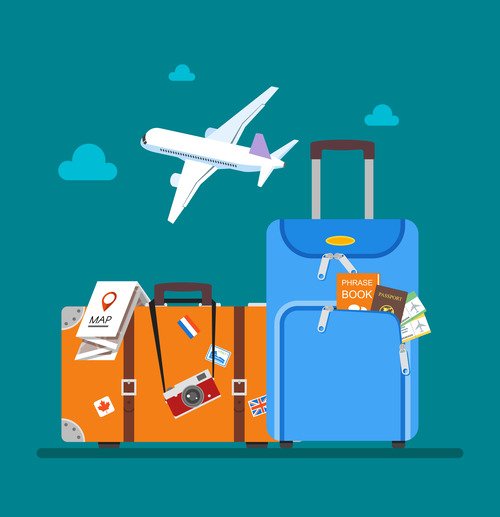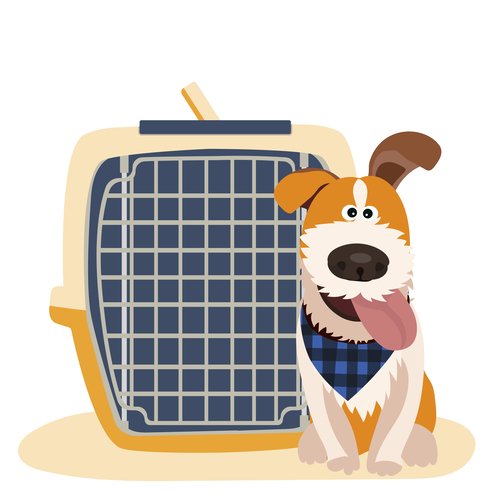 The pet flies with you
Not every traveller can find reliable care for their favourite of all four-legged friends. It is possible to take animals with you on most airlines. The respective transport conditions vary greatly. In most cases, the animal must be transported in a transport box or cage in the cargo hold. Up to a certain size, animals in a box may also fly in the cabin. The box should be marked with the owner's last name, telephone number and e-mail address. When checking in the pet, you must present the pet passport, which must list the necessary vaccinations, among other things.
Tip: Whether you are allowed to take your pet with you is decided solely by the entry regulations of your destination country!
Do not forget customs regulations!
Customs are not only interested in your luggage when you enter the country, but you also have to observe customs regulations and possibly submit declarations when you leave the country. Without customs formalities you may
Travel items such as clothing or photographic equipment,
items for personal use such as toiletries and gifts.
export. Exceptions are items that are subject to foreign trade regulations, i.e. whose export is prohibited or restricted, as well as goods and products for commercial purposes. They must be declared to customs for export. If you are taking valuable items such as an expensive camera and bringing them back with you, it is advisable to present proof of ownership. For these so-called "returned goods" there is the information sheet INF 3 Form 0329 or Form 0330 for re-entry into Germany. The forms will be issued to you by any German customs office before you leave the country. Alternatively, you should have the original cash receipts with you.
You must also declare cash of exactly 10,000 euros or more per person when you cross an external European border. For cash in this amount, a declaration must be submitted to the responsible German customs office before crossing the border. The form "Declaration of cash" is available for this purpose. When travelling within the EU, it is sufficient if you can present proof of origin for cash exceeding 10,000 euros to customs when asked. Attention: Precious metals intended for investment (e.g. coins or bars) such as gold, silver or precious stones are also considered cash.
The popular shopping "duty-free" between two customs offices has been abolished within the EU. The prices of goods offered in duty-free shops usually already include all duties. This is different in non-European countries. But then the maximum limits for certain goods such as tobacco, alcohol or perfume must be observed.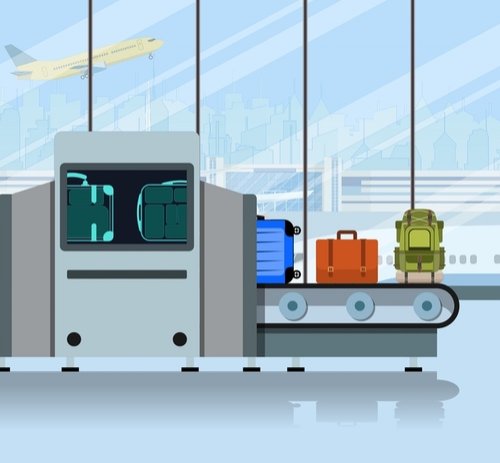 Security checks
The penultimate stop of the check-in process is the security checkpoints. There are usually several checkpoints through which you can get to your gate. The correct gate for your flight is indicated on your boarding pass. So just follow the signs to the departure gate and you will automatically arrive at the entrance to the security checkpoint, which has an electronic barrier. You can open this barrier by scanning your boarding pass.
At the actual checkpoint, you must place all metallic items in a tray, empty all trouser and jacket pockets and also unpack electronic items such as your smartphone. All jackets, coats and hand luggage must be removed. The items will go through a scan. You yourself must pass through a gate probe equipped with metal detectors.
If you are flying to a country outside the Schengen area, you must now go to passport control. Here your passport will be scanned and checked for validity. At some German airports there are EasyPass counters for automatic passport control. The passport is placed on a scanner and the passenger looks into a camera. However, in this case the passport must be registered for EasyPass.
The boarding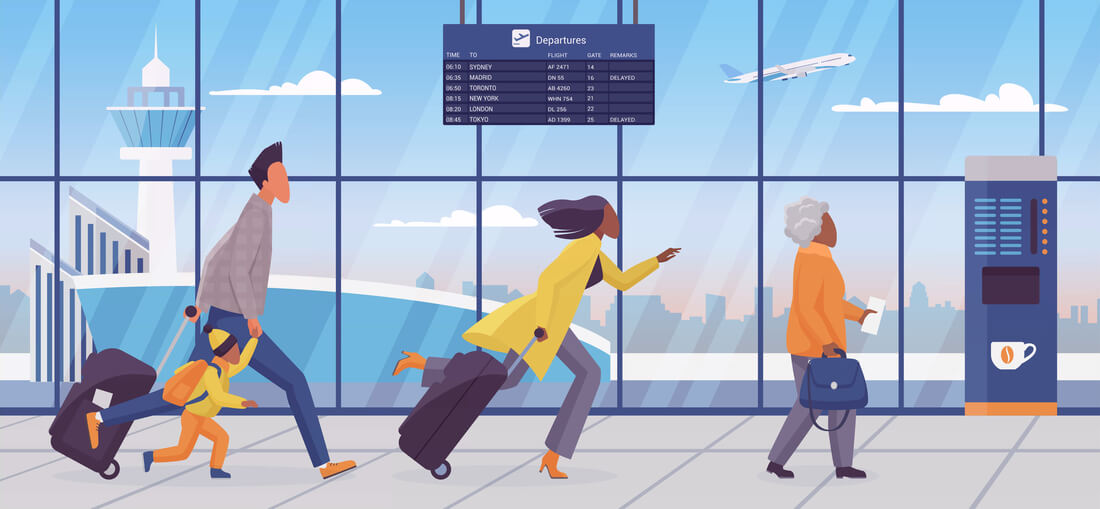 With the security or passport control, the last step of the check-in procedure is completed. Now follow the signs to your departure gate and wait there until your flight is called. You should arrive at the gate at least 30 minutes before boarding begins. Have your boarding pass and ID ready to show at the gate to avoid boarding delays. If applicable, observe boarding priorities such as speed boarding or the boarding groups noted on your boarding pass.
Conclusion
The huge airport halls with their many points of contact are very confusing for flight beginners. That's why every passenger is well advised to find out everything they need to know about their flight well in advance. This includes the respective check-in procedure of the airline, the regulations for the pieces of luggage, the required travel documents, the customs regulations and entry and exit conditions of the destination country. The better you know, the more confident you can be about your flight!
Important note: This article has been prepared using generally available information to the best of our knowledge. Our article is only intended to show the range of requirements for travellers when travelling by air. It cannot claim to provide complete and legally binding information on travel conditions. In case of doubt, you should enquire about the current rules and guidelines. The places to contact here are primarily: your travel agency, your airline, the airport, the Foreign Office and the customs authorities of the respective countries.