Parking at the airport – Safe. Inexpensive. Parking.
Fast transfer to the airport
Free shuttle service
Fenced & supervised Multi-storey car park
from 5 € / day
How it works
Book now
Payments can be made online upon reservation or arrival
Parking
Park your car in our Multi-storey car park near the airport
Shuttle
Our shuttle service takes you from the car park to the terminal and back
Flying
Begin your journey relaxed and stress-free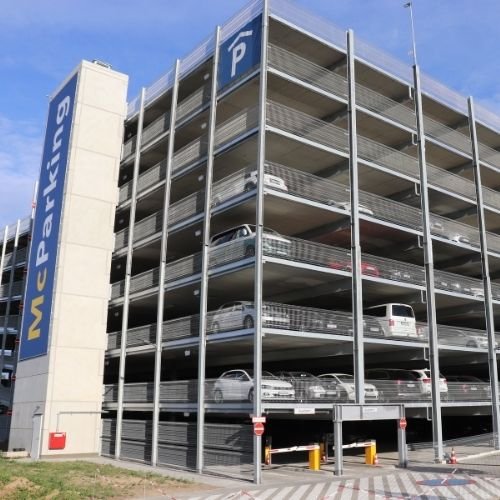 Parking at the Berlin Brandenburg airport
Park your car for less in our monitored and fenced car parks within a few minutes' drive of the Berlin Brandenburg (BER) and Berlin Schönefeld airports. Low-cost parking near the airport. We transfer you and your luggage comfortably from our car park directly to the airport. No stress at all.
Choose a parking offer that suits you, and book your parking space quickly and conveniently online. Select the airport, enter your travel data and your parking reservation is made directly with us. That's how easy it is with McParking, for parking at the Berlin-Brandenburg (BER) airport. We also offer parking facilities at other airports through our partners.
Book online now
Select the airport above where you would like to book a parking space with McParking. For example, BER Airport or another location with one of our partners. Then enter your travel date and click on "NEXT" to find your parking space. After that, we only need a few more details from you and your parking space is booked. Use our comfortable shuttle service every 20 minutes in large low-floor buses directly to the long-distance bus park B at Berlin Brandenburg Airport and enjoy your holiday from the very first day.
On your return, go to the McParking shuttle bus stop at long-distance bus park B. Again on the hour and every 20 minutes in between, you can travel back to your parking space in comfort with us.
Book your parking space with McParking and benefit from safe and cheap parking near the airport. Let us chauffeur you comfortably to Berlin-Brandenburg Airport. Would you also like to benefit from our advantages away from our Berlin location? No problem! Our qualified partners are at your disposal for other airports.
Do you need more?
Book upgraded option
Use our "McParking Plus additional options" and start your journey feeling even more relaxed!
Information
Your benefits
Low-cost & near the airport
Free shuttle service included
Airport parking in Berlin and throughout Germany
Parking at Berlin Brandenburg Airport: fly from Berlin to the world

Every year, millions of people travel from Berlin-Brandenburg Airport. Are you one of them? If so, use our practical service to book your parking space at Berlin Brandenburg Airport via McParking. Our free shuttle service takes you and your luggage directly to the terminal. You can park easily at Berlin Brandenburg Airport and enjoy your holiday or business trip in a relaxed atmosphere, right from the start. More information about airport BER.
---
Parking at Schönefeld Airport? Try out our secure parking spaces
Is it important to park your vehicle safely at the airport while you are away? Then book your parking space at Schönefeld Airport with McParking, and start your holidays in a good mood. Your car remains secure in a fenced, illuminated and safe car park.
We and our partners offer you good, low-cost parking at international airports. It is easy to calculate the exact price for your parking space over the required period, and then book it quickly and conveniently online. Simply select the airport where you need to book a parking space with McParking in the light blue space above. Then enter your travel dates and click "NEXT" to calculate the price.
Customer feedbacks
" We left our car for a week. Spacious, thoughtful parking. The barrier opens automatically, nothing needs to be done. A shuttle service is provided from the airport to the car parking. Fast and convenient. We are satisfied, I recommend. "
" Nice and smooth process for booking and at the parking. I will be back "
Konstantinos, A - 10.11.2022
" Services on the highest level and the IT services with booking and Apple Wallet ticket, the recognition of the number plate that automatically opens and closes the "door" is highly appreciated! You are doing a great job! "
Christian, K - 26.09.2022
" Einfach, günstig, sicher! Immer wieder. "
" Everything was perfect, no hassles or problems. I recommend McParking's services "
" All is great. There is nothing to improve "
" Everything was great and really simple! Big thanks for the service! "
" Excellent service Excellent value "
Florin Lulu, I - 05.08.2022
" Organizzato alla perfezione "
" Seamless experience and great tech platform. Shuttle service is great. "