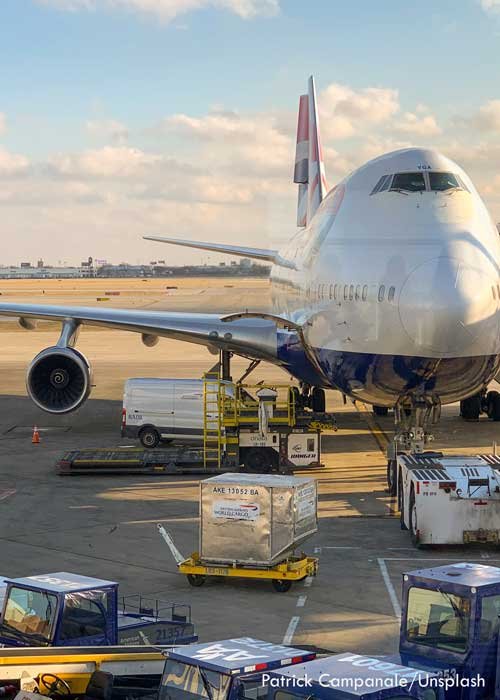 Welcome to Airport BER!
If you are visiting Berlin Brandenburg Airport as a traveller, you will need information. We have compiled important travel information for you for the "Airport BER".
Berlin Brandenburg Airport was built between 2006 and 2020 and is now the only airport in the German capital Berlin. It will also replace the existing Berlin airports Berlin Tegel and Berlin Schönefeld. The new capital city airport is expected to carry more than 50 million passengers per year, making it one of the largest airports in Europe. At the time of its opening, BER Airport had a capacity of around 28 million passengers per year - this number is to be increased step by step over the coming years. The first expansion phase of the airport has so far cost the federal states of Berlin and Brandenburg and the federal government around 6 billion euros. Berlin Brandenburg Airport is currently the largest transport infrastructure project in the region.
Important information about Berlin Airport

Approach
How to get to the airport BER?
Parking
Where you can park your car safely and cheaply

Einkaufen
Which shops invite you to shop at the airport?

Departure
How to pass the waiting time
How do you get to airport BER in your own car?
Like the former Schönefeld Airport, BER Airport Berlin is perfectly connected to the Berlin transport network. You can reach the airport via several motorways and federal roads from all directions. These include the A100, A113 and A10 motorways and the B96a trunk road.
Arrival via the Berlin motorway ring (A10) or the B96a
Arriving by car is quick, safe and convenient thanks to the good transport connections at BER Airport and the excellent parking facilities at the terminals or in cheaper car parks close to the airport. Depending on which terminal you are departing from, you may have to choose a different access road for the last few kilometres:
Terminal 1 & 2: You can reach the main terminals 1 & 2 via the Berlin-Brandenburg Airport exit of the A113.
Terminal 5 (not operating at the moment): Coming from the A113, you must take the Schönefeld-Süd exit. If you come via the B96a, you will arrive directly at the terminal.
Coming from Berlin: It is best to use the A100 from Tempelhofer Feld in the direction of Dresden/Neukölln/Flughafen Schönefeld and then turn onto the A113. Alternatively, if you are coming from the eastern part of Berlin, take the B96a federal road to Terminal 5.
From the east: Follow the A12 coming from the east and then change to the A10 (Berliner Ring). Then change to the A113 northbound at Schönefelder Kreuz.
From the south: Take the A9 and change to the A10 (Berliner Ring) at Dreieck Potsdam and also change to the A113 northbound at Schönefelder Kreuz.
From the north: If you arrive via the A11 at the Barnim junction, follow the Berliner Ring via the A10 in an easterly direction until you reach Schönefelder Kreuz and then change to the A113 in a northerly direction. If you are arriving from the north on the A24 at Dreieck Havelland, follow the Berliner Ring in a westerly direction to Schönefelder Kreuz.
From the west: Stay on the A2 and first change to the A10 (Berliner Ring) at the Werder junction and follow this eastwards to the Schönefelder Kreuz junction and then change to the A113 northwards from there.
You do not need to meet any environmental requirements to drive your own vehicle to BER Airport. The airport and its car parks are not located in an environmental zone that would require a special sticker.
Area map BER Airport
Brandenburg Berlin Airport is located around 26 kilometres south-east of Berlin's city centre in the municipality of Schönefeld, which has around 17,000 inhabitants, in the Dahme-Spreewald district of Brandenburg. This means that the airport borders directly on the Berlin districts of Altglienicke and Rudow within the Berlin boroughs of Treptow-Köpenick and Neukölln respectively.
The airport grounds cover around 1,470 hectares (or around 2,000 football pitches). The Brandenburg Berlin Airport is about 4 kilometres long and 3.5 kilometres wide.
Berlin Airport has several addresses:
The central entrance is located at Melli-Beese-Ring 1 in 12529 Schönefeld
Terminals 1 & 2 are located at Willy-Brandt-Platz 1 in 12529 Schönefeld
Terminal 5 is located at Terminal 5 in 12529 Schoenefeld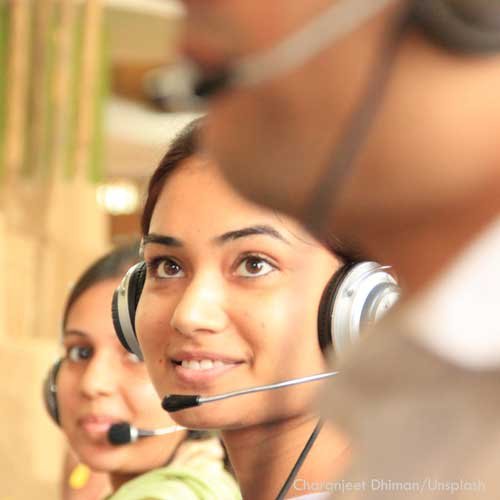 How can the airport be contacted?
You can contact Berlin Brandenburg Airport directly using the following options:
Phone: +49 30 6091 6091 0 (8 a.m. - 8 p.m.)
Email: pressestelle@berlin-airport.de (For press enquiries)
Twitter: @berlinairport
Postal address: Flughafen Berlin Brandenburg GmbH, 12521 Berlin
How do I get departure and arrival information?
Current departures and arrivals ( ± 3 days) can be checked on the airport's website. Departures and arrivals can be filtered according to airline or destination and time. In the terminals there are also clearly laid out large display boards showing the current departures and arrivals for the next 2 to 3 hours. Further information can be found directly at the numerous service points in the airport, which are located at numerous positions within the terminals.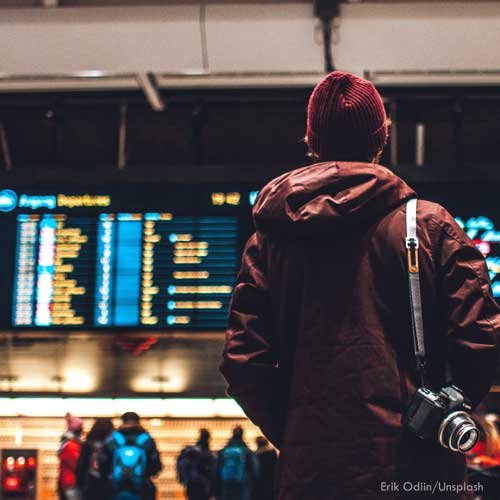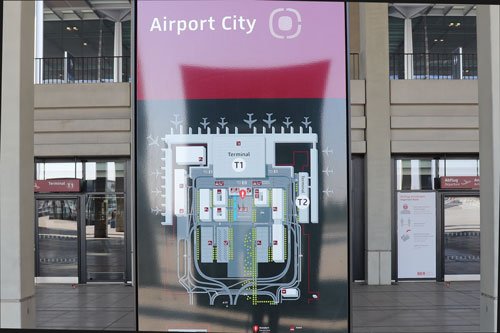 Terminal 1 or Terminal 2 - where do I have to go?
Terminals 1 and 2 are close to each other. You can walk from one terminal to the other in a few minutes. Terminal 2 was not opened until March 2022. To find out which terminal a particular flight arrives or departs from, it's best to check the airport operator's info page.
Where can you park your car?
308 short-term parking spaces (up to 10 min free of charge) are available directly in front of the terminal. Those who need to park their car for a whole day or longer can choose from various options of long-term parking spaces. The car parks at the terminal are often fully booked and very expensive during holiday periods. If you want to park your car for several days, a week or even longer, it is advisable to reserve the cheaper parking spaces near the airport. From these "off-airport car parks" you will be driven to the terminal by shuttle service and also picked up again when you return. There are multi-storey car parks and car parks with a total of several thousand spaces where you can safely park your car. There are even parking spaces with charging facilities for electric vehicles. No matter when you take off or return from your trip - the car park providers have a 24/7 service around the clock and also on public holidays and weekends.
McParking
Safe and cheap parking just minutes from the airport
2000 parking spaces in Berlin's most modern multi-storey car park
Secure parking on fenced and illuminated grounds
Including shuttle bus to Terminal 1 and 2
Cancellation up to 24 hours before departure free of charge
No key deposit necessary
Book parking space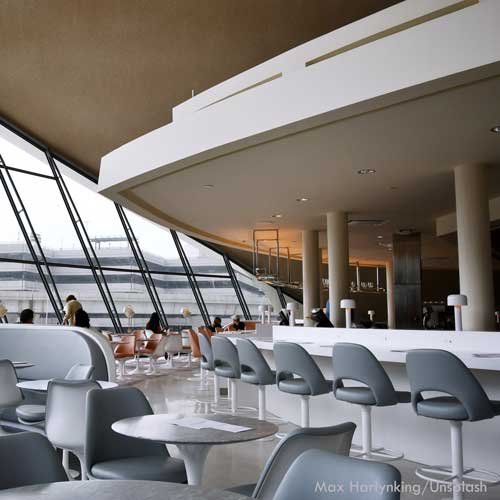 What VIP lounges are available at BER Airport?
For passengers who want to spend their waiting time away from the hustle and bustle at BER Airport, the airport offers various VIP lounges and a first-class VIP Shuttle Airport Berlin, which can be booked as an additional service. The VIP Launches are exclusive and relaxed retreats that offer comfortable seating and lounging options as well as a varied gastronomic repertoire. Access to the VIP Launches is available either directly on site or through special customer status with your airline.
The following VIP lounges are located in the terminals of Berlin Airport:
the VIP Lounge Zeitgeist
the VIP Lounge Tempelhof
the VIP Lounge Berlin
Further information on this and also access to the VIP Launch can be booked at the airport's service points.
Is there free wifi at the airport?
For your entire stay as an air traveller, guest or visitor at Brandenburg Berlin Airport, free wireless LAN is available. This is called "_Free Airport WIFI" and can be used password-free and around the clock on all mobile devices. For free use, you must authenticate yourself with an e-mail address.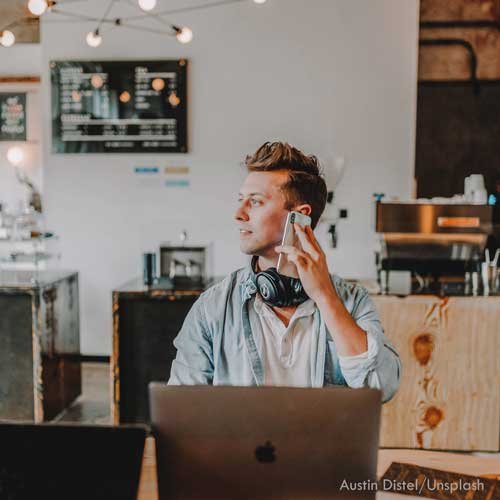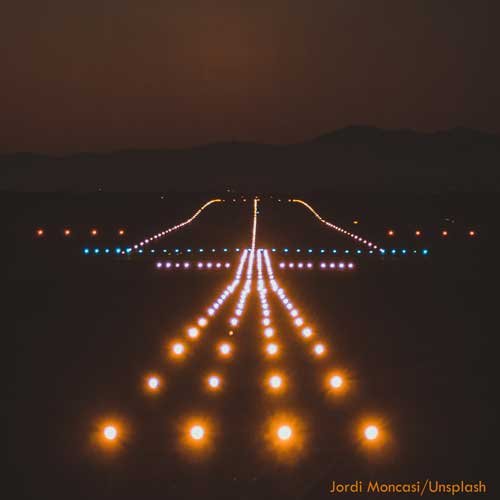 Is BER Airport open day and night?
The BER Airport is open 7 days a week and 24 hours a day. However, the visitor terraces are only accessible between 9 am and 7 pm every day. Arrivals and departures, however, do not take place between 24 and 5 o'clock due to the night flight ban. For air travellers, however, the terminals are open around the clock.
What shops does the BER offer?
Berlin Brandenburg Airport currently offers a selection of 34 different shops (including duty-free shops, clothing shops, bakeries, cafés as well as watch shops, perfume shops and supermarkets). Here is a selection of the best-known brands represented within the terminals:
Heinemann Duty Free & Travel Value
REWE
Swatch
Lufthansa
Marc O'Polo
LEGO Store
Picard
GANT
Blumenhaus Schamp
LLOYD
RELAY
Wolford
Capi
Hour Passion
The Wall Store Berlin
Spreewald & more
Pocket Shop
AMPELMANN
Picard
Sweet Capital

There are also many service providers such as travel agencies, car rental companies as well as Shuttle Airport Berlin and a parking service Schönefeld.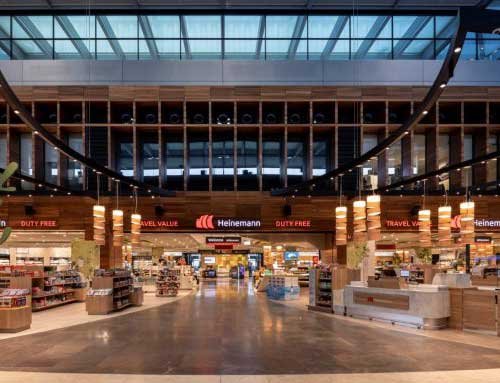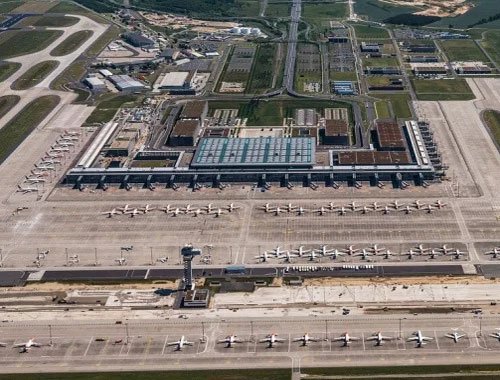 How many aircraft movements are there at BER?
Until the final expansion stage, Berlin's Willy Brandt Airport is expected to handle a total of around 324,000 aircraft movements per year. These are expected to include 289,000 scheduled flight movements and 35,000 cargo flight movements. The ratio between scheduled and cargo flights will thus be 89 per cent to 11 per cent, which means that BER Airport will focus primarily on passenger flights. In terms of scheduled flight movements, there will also be a division between pure scheduled traffic (about 258,000 planned flight movements) and occasional traffic (about 20,000 flight movements). The same applies to pure cargo traffic, where scheduled traffic will account for about 30,000 flight movements, occasional traffic for about 3,600 flight movements and transit traffic for about 1,300 flight movements.
Which airlines fly from Berlin?
Currently, around 90 different airlines fly to around 160 different destinations from the airport in Brandenburg Berlin - and the trend is still rising. This makes the airport one of the most important air hubs in the region, or rather in the Federal Republic of Germany. According to Berlin Airport BER Info, destinations all over the world can be reached via the airport - in some cases even without a stopover or change of planes. Below you will find a list of all airlines departing from BER Airport:
Aegean Airlines (Abbr.: A3)
Aer Lingus (Abbr.: EI)
Aeroflot (Abbr.: SU)
Air Arabia Egypt (Abbr.: E5)
Air Baltic (Abbr.: BT)
Air Cairo (Abbr.: SM)
Air Dolomiti (Abbr.: EN)
Air France (Abbr.: AF)
Air Malta (Abbr.: KM)
Air Serbia (Abbr.: JU)
AIS Airlines (Abbr.: PNX)
AlbaStar (Abbr.: LAV)
Arkia (Abbr.: IZ)
ASL Airlines (Abbr.: 5O)
Austrian Airlines (Abbr.: OS)
Azerbaijan Airlines (Abbr.: J2)
BA City Flyer (Abbr.: CJ)
Belavia (Abbr.: B2)
Bluebird (Abbr.: BBG)
British Airways (Abbr.: BA)
Brussels Airlines (Abbr.: SN)
Bulgaria Air (Abbr.: FB)
Condor (Abbr.: DE)
Corendon Airlines (Abbr.: CAI)
Corendon Airlines Europe (Abbr.: CXI)
Croatia Airlines (Abbr.: OU)
Danish Air Transport (Abbr.: DX)
Delta Air Lines (Abbr.: DL)
easyJet (Abbr.: U2)
easyJet Europe (Abbr.: EJU)
easyJet Switzerland (Abbr.: DS)
Egypt Air (Abbr.: MS)
EL AL-Israel Airlines (Abbr.: LY)
European Air Charter (Abbr.: BUC)
Eurowings (Abbr.: EW)
Evelop (Abbr.: EVE)
Finnair (Abbr.: AY)
Fly Egypt (Abbr.: FEG)
Freebird Airlines (Abbr.: FHY)
Freebird Airlines Europe (Abbr.: FHM)
Georgian Airways (Abbr.: A9)
Hainan Airlines (Abbr.: HU)
Hibernian Airlines (Abbr.: HG)
Iberia (Abbr.: IB)
Iberia Express (Abbr.: IBS)
Icelandair (Abbr.: FI)
Iraqi Airways (Abbr.: IA)
Israir (Abbr.: 6H)
KLM (Abbr.: KL)
KLM Cityhopper (Abbr.: WA)
LOT Polish Airlines (Abbr.: LO)
Lufthansa (Abbr.: LH)
Luxair (Abbr.: LG)
MIAT Mongolian Airlines (Abbr.: OM)
Neos (Abbr.: NO)
Nesma Airlines (Abbr.: NE)
Nordwind Airlines (Abbr.: N4)
Norwegian Air Shuttle (Abbr.: DY)
Nouvelair Tunisie (Abbr.: BJ)
Olympus Airways (Abbr.: OLY)
Onur Air (Abbr.: 8Q)
Pegas Fly (Abbr.: EO)
Pegasus Airlines (Abbr.: DY)
Play (Abbr.: OG)
Pobeda (Abbr.: DP)
Qatar Airways (Abbr.: QR)
Rossiya Airlines (Abbr.: QR)
Royal Air Maroc (Abbr.: FV)
Royal Jordanian (Abbr.: RJ)
Ryanair (Abbr.: FR)
S7 Airlines (Abbr.: S7)
SAS (Abbr.: SK)
Scoot (Abbr.: TR)
Sky Alps (Abbr.: LWG)
Smartlynx (Abbr.: 6Y)
Smartwings (Abbr.: QS)
SundAir (Abbr.: SDR)
SunExpress (Abbr.: XQ)
Swiss (Abbr.: LX)
Tailwind Airlines (Abbr.: TWI)
TAP - Air Portugal (Abbr.: TP)
Trade Air (Abbr.: TDR)
Transavia Airlines (Abbr.: HV)
Transavia France (Abbr.: TO)
TUIfly(Abbr.: X3)
Tunis Air (Abbr.: TU)
Turkish Airlines (Abbr.: TK)
Ukraine International Airlines (Abbr.: PS)
United Airlines (Abbr.: UA)
UT Air (Abbr.: UT)
Vueling Airlines (Abbr.: VY)
Wings of Lebanon (Abbr.: WLB)
Wizz Air (Abbr.: W6)
This list does not claim to be complete. The range of airlines may also change due to current events.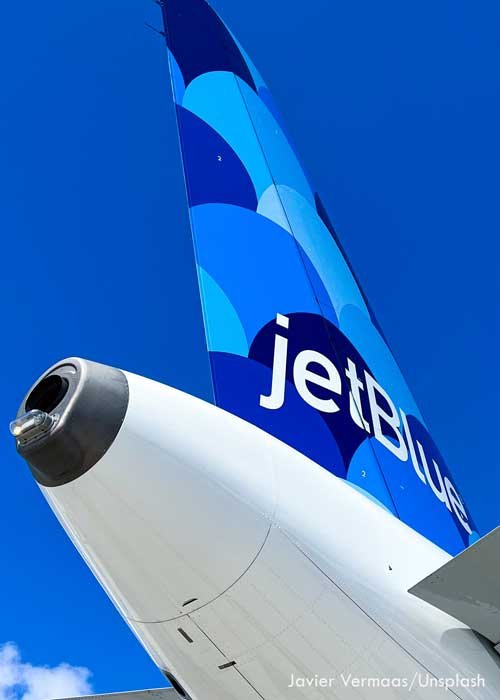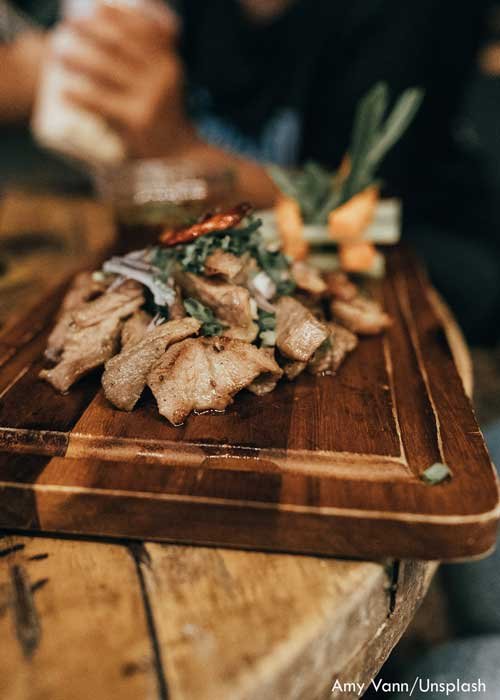 Are there cafés and restaurants in the terminals?
There is a selection of international restaurants and cafés within the departure area. The airport has a total of 24 restaurants. Here are the best-known locations on the airport grounds:
KAMPS Bäckerei
Starbucks
Mövenpick Café
Burger King
Sandwich Manufaktur
Deli Berlin
Berliner Kaffeerösterei
asiagourmet
ingredienti
basta! pizza e pasta!
Sandwich Manufaktur
Laggner Bräu
Which flight destinations are served from Berlin?
Currently, 40 countries with over 100 destinations can be reached from BER Berlin Airport. The current destinations are in Europe, Asia and Africa. In the future, however, further intercontinental flights to North and South America, Oceania and Australia will be added. Below is a brief overview of the most frequented destinations by country:
Egypt (Cairo, Hurghada, Marsa Al Alam)
Belarus (Minsk)
Belgium (Brussels)
Bulgaria (Sofia, Varna)
Denmark (Copenhagen, Arhus)
Estonia (Tallinn)
Finland (Helsinki, Lappeenranta)
France (Paris, Bordeaux, Marseille, Lyon)
Georgia (Tbilisi, Kutaisi)
Greece (Athens, Kerkyra, Thessaloniki, Heraklion, Chania)
Great Britain (London, Southampton, Bristol, Newcastle, Edinburgh)
Iraq (Erbil)
Ireland (Dublin)
Israel (Tel Aviv)
Italy (Rome, Pisa, Naples, Palermo, Bologna, Milan, Bolzano, Venice, Olbia)
Jordan (Amman)
Qatar (Doha)
Croatia (Split, Zadar)
Latvia (Riga)
Lithuania (Vilnius)
Luxembourg (Luxembourg)
Malta (Malta)
Morocco (Marrakech)
Moldova (Chisinau)
Netherlands (Amsterdam, Rotterdam)
Norway (Oslo, Bergen)
Austria (Vienna, Innsbruck)
Poland (Warsaw)
Portugal (Lisbon, Faro, Porto, Funchal)
Romania (Bucharest, Cluj)
Russia (Moscow, St. Petersburg, Kaliningrad)
Sweden (Gothenburg, Stockholm)
Switzerland (Berne, Geneva, Zurich)
Serbia (Belgrade)
Singapore (Singapore)
Spain (Barcelona, Madrid, Malaga, Alicante, Valencia, Tenerife)
Tunisia (Tunis, Djerba, Monastir)
Turkey (Istanbul, Izmir, Ankara, Antalya, Gaziantep)
Ukraine (Lviv, Kiev, Kharkiv, Odessa)
In addition, there are other destinations, some of which are seasonal, that can be reached from Berlin Brandenburg Airport.
This list of destinations cannot claim to be exhaustive. The number of destinations flown to may increase or decrease.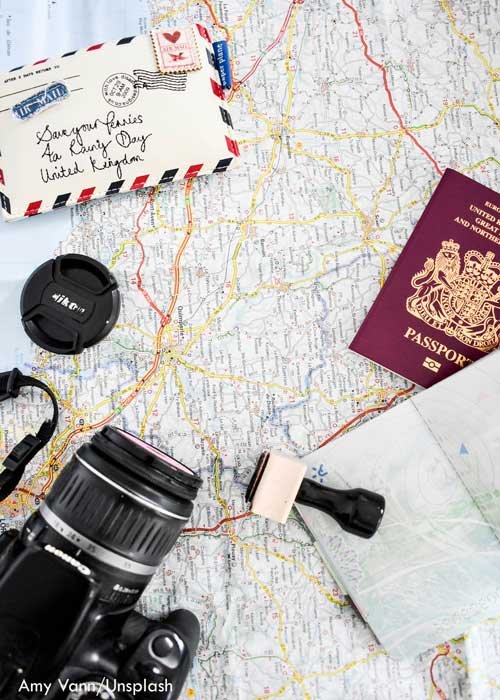 Frequently asked questions by air travellers (FAQ)
When was BER Berlin Airport opened?
The airport opened its doors on 31 October 2020 and has since taken over all air traffic from the previous Berlin Schönefeld Airport. Alongside Berlin Tegel Airport, which closed in November 2020, this airport alone now handles all air traffic in the capital region and the surrounding region of Brandenburg-Potsdam.
Is Berlin Airport the largest airport in Germany?
Brandenburg Airport is one of the most important airports in the Federal Republic of Germany. Berlin Airport is the eastern air hub in Germany (Hamburg is the northern hub, Frankfurt am Main the western hub and Munich the southern hub). In terms of capacity, the airport currently ranks third in Germany, just behind Frankfurt am Main and Munich, but this is set to change in the future. Berlin Brandenburg Airport is also an important departure airport for Poland.
Does the airport have its own motorway exit?
Yes, you can reach the airport directly via the A113 motorway by taking the "Flughafen Berlin-Brandenburg" exit.
Can you park & charge your electric car at the airport?
Yes. One of the other benefits that has come about in the course of the conversion to BER Airport is the expansion of charging stations. The popularity of electric cars has grown considerably. More and more manufacturers are designing small cars, coupés or SUVs as electric vehicles. The demand for charging stations has increased accordingly. The nearby car parks have charging facilities for different plug systems.
We at McParking have also taken the opportunity to add charging facilities to our parking spaces in the course of the conversion and expansion of Berlin Airport. We can charge up to 40 electric cars at 10 available charging points. Our service and the special comfort for you here is: You do not have to charge your car yourself and, if necessary, wait a long time for the charging process to be completed. Instead, simply leave your car key with us and we will "fill up" your battery. When you return, you can then drive off directly with your fully charged car. There is only a small flat fee for this charging service with no further charges.
Is there a short-term parking zone in front of Terminal 2?
No, there is only a short-stay parking zone in front of Terminal 1 with 300 parking spaces, where you can park up to three times a day for up to 10 minutes free of charge. However, you can walk from Terminal 1 to Terminal 2 in just a few minutes.
Is the new BER Terminal 2 already open?
Yes, the new Terminal 2 of the BER opened on 24.03.2022. Terminal 2 will initially be used mainly by the airline Ryanair.
Are there flights from Terminal 5?
No. Due to the low volume of air traffic during the Corona crisis, BER's Terminal 5 is currently (as of spring 2022) not in use. All arrivals or departures take place at Terminals 1 and 2.
How long does it take to travel by public transport from Berlin Central Station to the airport?
Depending on the time of day, the journey takes between 40 minutes and 90 minutes. You can choose between the train, the S-Bahn (S9) or a bus. The journey by car from the city centre takes 30 - 50 minutes, depending on traffic.