Security checks at German airports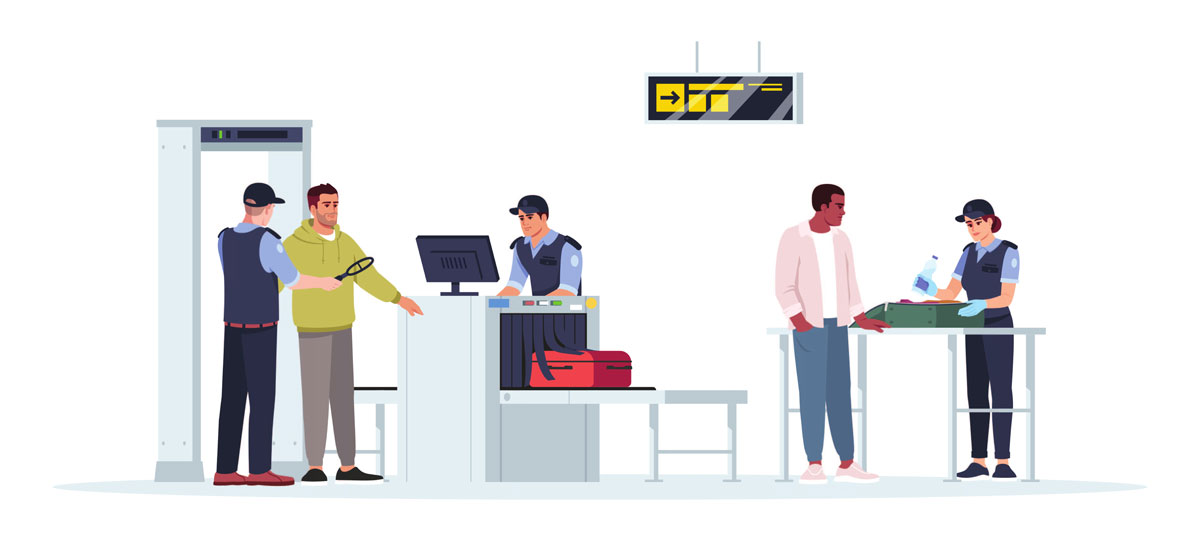 In recent years, the requirements for checking passengers and their baggage have been steadily increased. As a result, the security checks with their annoyingly long waiting times are both a curse and a blessing. However, they are essential for air traffic security. In fact, the long lines at the various checkpoints would not have to be at all if passengers knew the control procedure and could prepare for it accordingly. The experts at McParking explain what to expect at the checkpoints and what to look out for.
What security measures are there?

The security of air traffic in Germany is guaranteed by a series of regulations, some of which are internationally coordinated, and the interaction of authorities and companies. The security checks are a decisive factor in countering a possible threat of attacks, for example. There are three control points at each airport:
the passenger and baggage controls
personnel and goods controls
cargo and mail controls

Each control point is subordinate to different federal ministries. The Federal Police is responsible for passenger and baggage controls. It is supported by private security companies. Personnel and goods checks are the responsibility of the respective state aviation authority and are carried out by the airports. Cargo and mail checks are the responsibility of the Federal Ministry of Transport and the Federal Aviation Authority and are carried out by the airlines. Passengers generally do not notice the personnel, goods, cargo and mail checks.
The large number of authorities and organizations involved in aviation security is one of the main criticisms of German air traffic. Those responsible would like all security measures to come from a single source, but this is made more difficult by the involvement of the federal and state governments.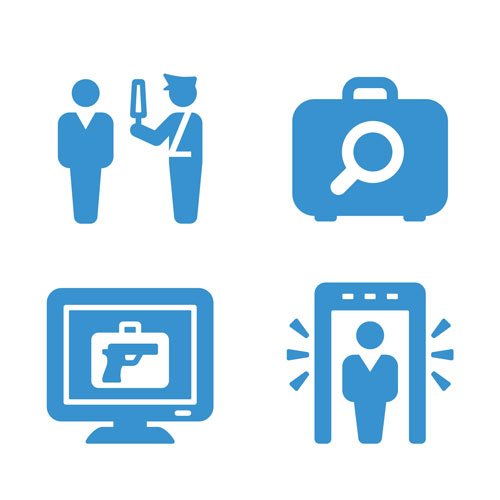 What is checked at the security checks?
Staff from the relevant authorities are available at the checkpoints and will be happy to help you with any questions you may have. You will find the gate for your flight on your boarding pass. You will need the boarding pass to open access to the security checkpoints, as these are usually blocked by an upstream barrier. Then the actual security checks begin. They consist of
Checking hand luggage and items carried on board
People screening
ID check
Air security check due to Covid-19
Baggage check
Customs check
Security checks on hand luggage and items carried with you
How much hand luggage you are allowed to take with you is handled differently by the airlines. As a rule, there may only be one piece of luggage with a maximum weight of eight kilograms. In addition, a handbag may be allowed. The hand luggage and all items carried must be placed in a control tray. This includes coats, jackets, scarves and the contents of all trouser or jacket pockets. Electronic devices such as smartphones, tablets and cameras must be placed in a separate tray.
Special regulations apply to the carrying of liquid containers in hand luggage. The individual containers may hold a maximum of 100 millilitres each and must be packed in a well-sealed plastic bag. Liquids include not only drinks, but all substances that become liquid at room temperature, i.e. also creams, toothpaste and even processed cheese. Only one bag with a total capacity of one litre may be carried per person. Duty-free liquids purchased at the airport are sealed in a security bag with a red edge and may be carried on presentation of the proof of purchase. There are no quantity limits under aviation security law for these duty-free bags and medicines and special foodstuffs. A certificate of necessity is required to carry medicines.
The control trays pass through an X-ray scanner. These devices are subject to the regulations of the Radiation Safety Act and the Radiation Protection Ordinance. The radiation exposure for passengers is a maximum of 0.2 microsievert and is considered harmless.
If the X-ray scanner shows any abnormalities, the screening staff may search your hand luggage and ask you to empty it completely. They may also ask you to turn on your smartphone, tablet or laptop. In addition, your electronic devices may be wipe tested for explosives or other dangerous substances.
If unauthorised items are discovered in your hand luggage, it is a misdemeanour, possibly even a criminal offence. You must either hand over the prohibited items to someone, deposit them or, if permitted, check them in as baggage. Check-in staff are not allowed to accept the items or dispose of them for you. The following are not permitted
Weapons of any kind, including imitations
Ammunition
knives and sharp objects
explosive, chemical and toxic substances
various liquids, pastes, gels and aerosols.
The screening of persons
Here you have the traditional security scanners where you have to go through a kind of gate. When going through the security scanner, you are no longer allowed to have any objects in clothing pockets or in your hands. Everyone has to pass through the gate, except pregnant women and people with pacemakers.
Alternatively, body scanners are becoming more and more common at German airports. The use of this is voluntary, and you can also undergo a manual check if you wish. You are not allowed to enter the body scanner until you are asked to do so by the staff. Place your feet on the markings and raise your arms above your head. The scanner will indicate if you are carrying any metallic or other unauthorised objects on your body. If so, these will be displayed on the control monitor. You must remove the items and re-enter the airlock, or the security staff will check you with a hand-held scanner. Further follow-up checks may be required, for which there are separate rooms or booths at each airport. Once you have successfully passed the body scan, you will have to wait at an assigned screening area. After checking the items you have deposited, you will be allowed to take your luggage back.
How does the security scanner work?
There is widespread uncertainty about the body scanner. In particular, the question of whether the body scanner is safe for health and what the security personnel actually see is the subject of controversial debate.
The fact is that the modern body scanners at German airports work with electromagnetic radiation, so-called terahertz or T waves. X-rays are not used. With the passive scanning method, the T-waves emitted by the body are registered. The T-waves can radiate through clothing, but not through objects. They become visible as shadows on the control screen. In the active scan method, on the other hand, the body is irradiated with T-waves. While the body absorbs the rays, they are reflected by objects, which are thus made visible.
With both methods, passengers do not appear naked, but only schematically as a pictogram on the control monitors. According to German law, the high-resolution body scanners are not permitted anyway. With the new technology, small secrets like an intimate piercing or health problems like an artificial bowel outlet could actually be made visible. This is why the devices, which are often referred to as "nude scanners", are the focus of criticism.
No health concerns are raised against them. T-radiation is much lower than X-radiation and therefore harmless.
But there is one problem: if people sweat heavily or have previously been in a downpour, the body scanner can no longer penetrate their clothing. Terahertz waves are absorbed by the moisture. In these cases, a manual check is then carried out.
The identity card check
If you want to travel to a country outside the Schengen area, you will have to undergo an identity check. An employee of the airport operator will scan your passport and check its authenticity and validity. He will also compare the passport picture with your person to make sure that the passport really belongs to you. Since 2017, a search query has also been carried out on EU citizens who want to leave the Schengen area. Until then, this search was only carried out on non-EU citizens.
At some German airports, this passport control is now automated. At the so-called EasyPass counter, you place your passport yourself on a reader that compares the biometric facial shape and data. However, this EasyPass system is so far only available to citizens of the European Union with a registered electronic passport.
Aviation security checks because of Covid-19
At most airports, the wearing of masks is no longer required. However, German airport operators recommend that people continue to wear the mask in airport buildings.
When travelling abroad, the respective Corona regulations of the destination country must be observed. For some countries, 3G or vaccination certificates are still required. There are testing stations at airports where you can be tested for Covid-19 before departure if testing is still mandatory for your destination country.
For flights within Germany, there is no longer an obligation to provide proof. Currently, Germany has a mandatory mask requirement on aircraft, which may be tightened or relaxed depending on the coronalage. It is therefore necessary to find out what the current situation is with regard to vaccinations, tests and mandatory masks before you travel. You can obtain information from your airline and the Foreign Office.
Checking your suitcase
You have already put your suitcase on a luggage belt at check-in and it has disappeared. You will only get it back at your destination airport, at least if everything goes according to plan. This does not mean, however, that your luggage leaves the airport unchecked, even though very little is known about airline baggage control. Checking and screening of checked luggage takes place behind "closed doors", but is very similar to the hand luggage check.
This means that the contents of the baggage are screened with various scanning devices. If there are no objections, the luggage is put on the plane. If something suspicious is detected and the screeners cannot identify the item, the piece of luggage is opened, or even broken open if necessary. If the item can be identified as harmless, it is closed again and the owner is informed of the measure by means of a stick-on sign.
Among other things, the following items are not allowed in the suitcase:
Firearms and weapon-like items
Tools
Accumulators, batteries and power banks
E-cigarettes
lighters and matches
flammable substances

If the inspectors actually find something suspicious in the luggage, they notify the Federal Police and the owner of the suitcase is also contacted. Extensive follow-up checks are then carried out.
Dogs are also used on a random basis to sniff luggage for drugs or other illegal substances.
Customs control
Customs not only have an interest in goods carried on entry to Germany, but under certain circumstances also on exit. For example, certain goods and cash may only be exported from Germany duty-free per person within a specified exemption limit, provided they are intended exclusively for personal use or consumption. These include above all tobacco products and alcohol, but also cash in the form of cash, travellers' cheques or gold coins and bars. For travel within the EU, other exemption limits apply than for countries outside the EU.
Goods and cash above the exemption limits must be declared to customs. The declaration is made using a form that you can fill out online in advance or directly at customs at the airport. The declaration certificate can become important if you are checked by customs when entering the country and you are carrying a valuable watch or expensive designer clothes in your luggage. With the customs certificate, you can prove that you did not purchase the items abroad and want to import them duty-free.
How long do the security checks take?
Basically, you have to be prepared for longer waiting times because of the extensive security checks. Here, BER's new runaway service can lead to real relief and shorten the long queues that usually form in front of the security gates. However, this only refers to the procedure of the security checks themselves, not to the total time you may have to spend in the airport building.
But: Waiting times must not be infinitely long. The Higher Regional Court of Frankfurt am Main recently ruled (judgement of 27.01.2022 - file number 1 U 220/20) that passengers must be able to rely on the times recommended by the airport operator for arriving at the airport. This means that if the operator recommends arriving at the terminal 2 to 2.5 hours before the aircraft is due to take off, this time may not be exceeded due to long waiting times at check-in and a booked flight may be missed as a result.
Source: Ruling OLG Frankfurt a.M.: https://dejure.org/dienste/vernetzung/rechtsprechung?Gericht=OLG%20Frankfurt&Datum=27.01.2022&Aktenzeichen=1%20U%20220%2F20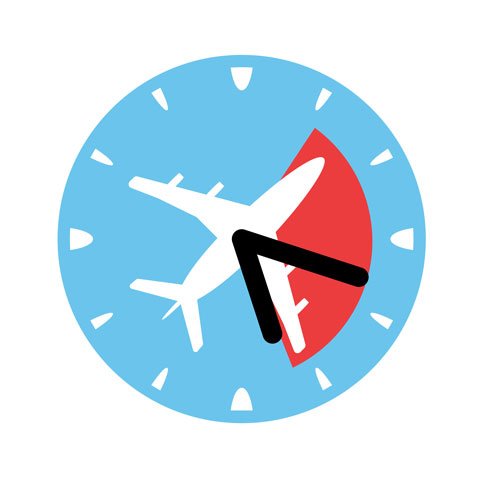 What should you pay attention to? Our tips and tricks
The extensive security checks at airports are designed to ensure that no weapons, explosives or other dangerous items get onto the aircraft. Accordingly, they have to be thorough and can take a long time. However, there are a number of things you can do to ensure that the security checks do not take too long or that you may not be able to board your flight at all because of minor negligence.
1. Get checklists
Before you start packing, make or get checklists of the items you are not allowed to take on the plane. Leave prohibited items at home and do not try to hide them in your luggage. You need two checklists: one for the luggage you check in and one for the hand luggage you take into the cabin. If in doubt, don't be afraid to ask your airline. This also applies to the amount and size of hand luggage allowed on your flight.
2. Put everything in the hold if possible
Pack everything you don't really need during the flight in luggage that you check in. It has just become a real trend to take as much as possible as hand luggage. Overstuffed overhead bins and hand luggage blocking passageways and foot space in rows of seats are a nuisance for passengers and flight attendants alike.
3. Use the Preparation Zones
Some airports have preparation zones in front of the security gates where you can prepare yourself for the security checks. Take off your outer clothing, i.e. coats, jackets, hats, scarves and the like. Remember at home that you will have to take off your outerwear for the security checks. Therefore, do without belts, shawls and other clothing that you do not absolutely need.
Any items you need to put in the screening trays should be at the top of your hand luggage or in an extra compartment in your travel bag. This is where delays tend to occur, for example, because a traveller has stowed medicines at the bottom of the travel bag and cannot find them to present at the checkpoint. You can also unpack smartphones, tablets, laptops and cameras. Empty all trouser and jacket pockets or deposit all items from the pockets in a place that you can easily and quickly reach. Re-check the liquid bags.
4. Answer truthfully
If screening staff have questions about specific items, you should answer them truthfully.
5. Have documents ready
If you have medication or duty-free liquids in your hand luggage, it is best to have certificates and purchase receipts ready with your boarding pass and identification documents.
6. Please do not make jokes
Airport security staff take their duties very seriously. Therefore, do not make jokes about bombs, drugs or similar during security checks. Officers must always follow up on any threat, no matter how joking it may be.
7. Follow instructions
During security checks, be sure to listen to the instructions of the security staff. There is no point in arguing. It only wastes time. In case of doubt, the officials know exactly what is allowed and what is not.
8. Remain polite
Please remain polite, no matter how stressful the security checks are. The security staff are just doing their job. The better they do it, the safer you and your fellow passengers will be.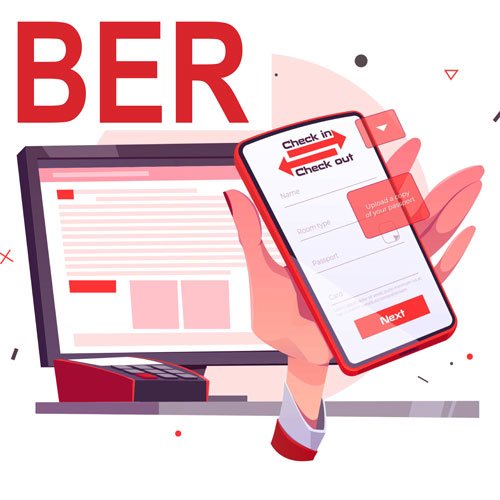 Online bookable time slots for security checks at BER
Recently, the capital's airport BER surprised its passengers with online bookable time slots for security checks. BER Runway is the name of the new service, which is intended to reduce waiting times when checking in passengers and at the same time make the flow of passengers more calculable for the operator. To this end, a dedicated security gate has been set up for which a time for the security check can be booked free of charge from 72 to 1.5 hours before departure via the BER app or on the homepage. Passengers can pass through the security gate ten minutes before and after this time.
BER is the first European airport to offer this service. However, the offer does not change the airport operator's recommendation to arrive at the airport 2.5 hours before the scheduled departure time of your aircraft. So you still need to allow enough time for check-in. And nothing has changed with regard to the security checks themselves.
Conclusion
Aviation security plays a very special role in national and international air traffic. That is why security checks at airports are unavoidable and not least in your own interest. However, long waiting times in front of the checkpoints occur because some travellers do not know what to expect and are not prepared for it. That is why it is important that you know the scope and procedure of the security measures at German airports and take note of them when packing your suitcase. If you take our tips to heart, you can face the security checks without worry and get through them quickly. And then it's finally "takeoff". Enjoy your flight!