Just a few minutes from the terminal
Free shuttle service
over 3,000 parking spaces
Rules in car parks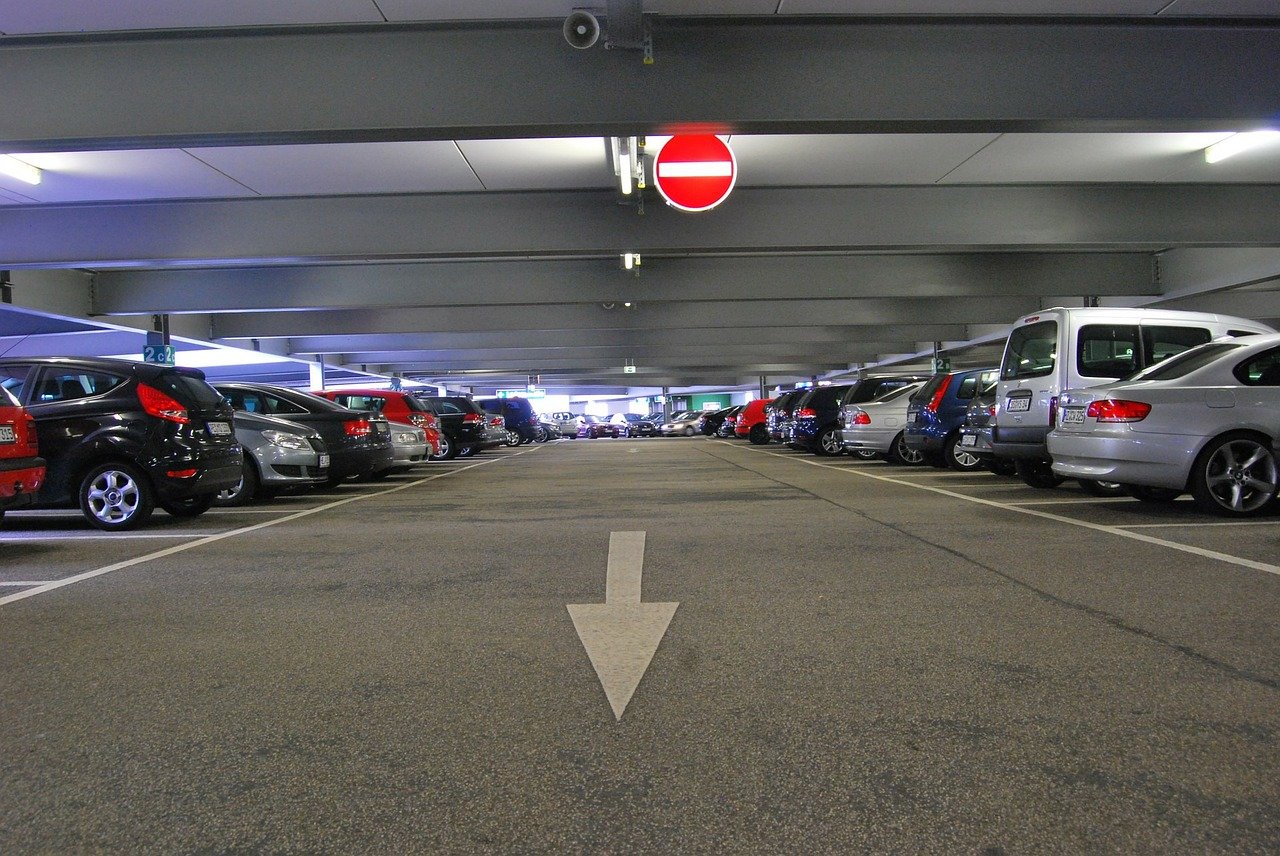 Tips and rules in the multi-storey car park
Narrow paths, hardly any room to manoeuvre and poor orientation - multi-storey car parks are still stressful for some drivers, even after years. Steep entrances, very narrow paths up and down as well as narrow parking spaces and countless pillars are something we regularly encounter when looking for the right parking space. How do you behave in multi-storey car parks? Do you know the applicable traffic rules? We reveal a few tips and tricks that will help you drive into multi-storey car parks in a more relaxed manner in the future.
Road traffic regulations in multi-storey car parks?
Yes, the Road Traffic Regulations (StVO) apply in multi-storey car parks, regardless of whether there is a sign in the entrance area or not. In such a parking facility, you must expect not only other vehicles, but also pedestrians. The very narrow paths demand increased caution and attentiveness.
But are there any applicable rules? In particular, § 1 StVO "Participation in road traffic requires constant caution and mutual consideration" must be observed here. Nobody wants to be inconvenienced, obstructed or endangered in traffic, so it is advisable to behave in the same way. Avoid tailgating, abrupt braking and high speeds. Especially in multi-storey car parks, you should drive at walking speed at best and be ready to brake at all times. The well-known "right before left" right of way rule must also be observed here, as long as the lane is not used for search traffic.
Who may park first?
We know enough about towels on beach loungers; meanwhile, some citizens even try to reserve parking spaces in multi-storey car parks for themselves. Perhaps the multi-storey car park is the starting point for a meeting or your family would like to park next to each other. However, this is not permitted. As so often in life, the same applies here: Whoever reaches the coveted parking space first may park there. This rule also applies if you have to back up to park. Give the person time and space to park in peace. Nothing is worse than having jostling vehicles behind or beside you while you are trying to park.
Tip #1: Parking
Some car parks are quite outdated, which is why the size of the parking spaces is not up to date. This makes parking a lot more complicated than it needs to be. If you have passengers in the car, it is advisable to let them out beforehand. That way you don't have to worry about which door will open and how far - especially if there are pillars next to the parking space. Take your time when parking and also take it when making corrective moves. Also pay attention to whether the parking direction is given. Sometimes you may only park forwards to avoid unsightly soot marks from the exhaust on the walls.
Tip #2: Electric? No problem!
You drive an e-vehicle and want to park and charge? Nowadays there are some multi-storey car parks that have integrated charging points. So you can park your car in a relaxed way and let it charge while you are away. With a full battery, you don't have to worry about getting home.
Parking garages demand a lot from drivers. Stay cool and don't let yourself get rattled. With our tips, your next visit will be completely relaxed. Did you know that our car park at BER Airport with charging columns and around 2,000 parking spaces will be opening soon? Be one of the first to book a modern parking space there.

We look forward to your visit!