Just a few minutes from the terminal
Free shuttle service
over 3,000 parking spaces
Fog - What to do?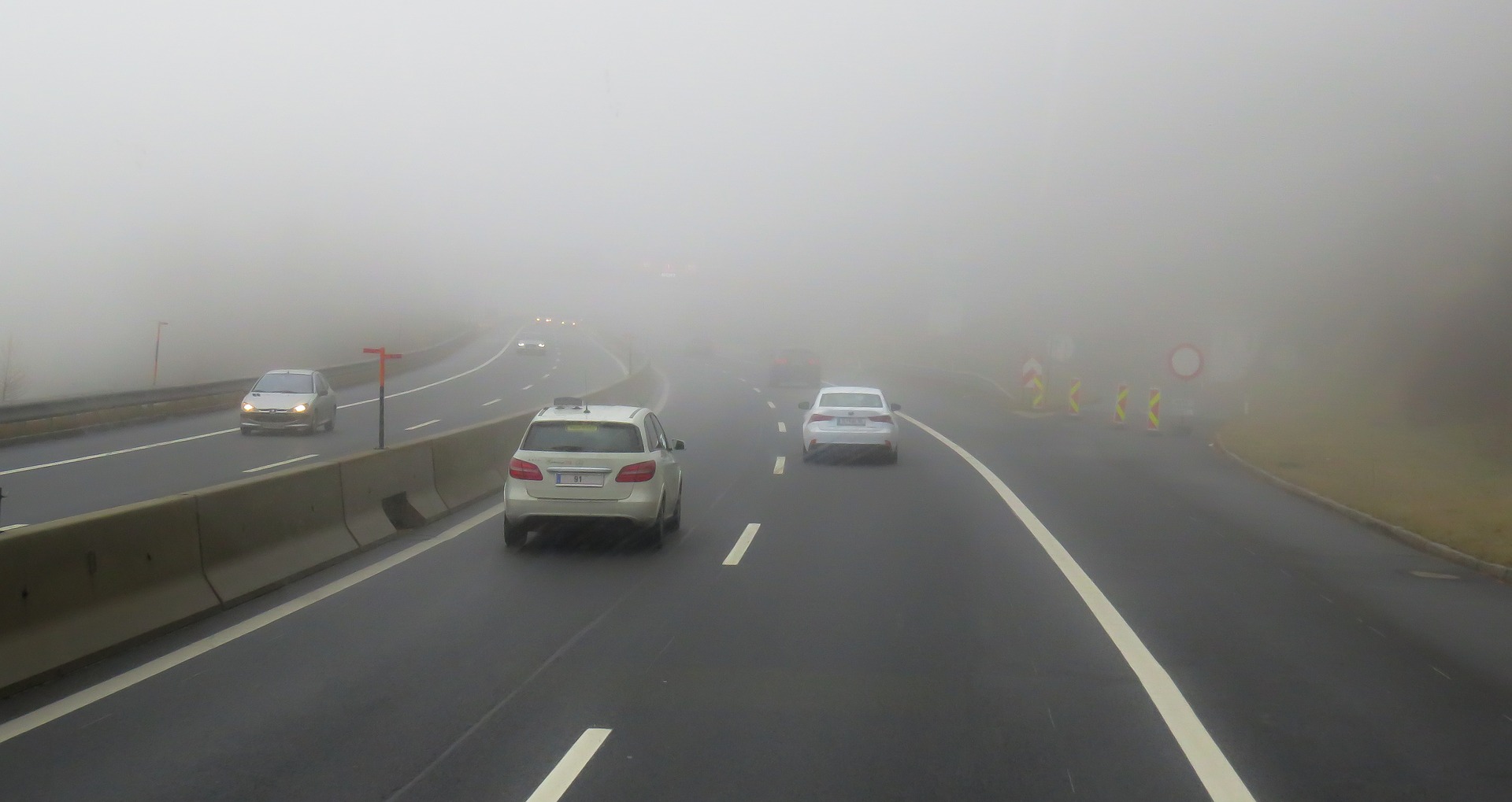 Summer is over and autumn has begun. After this sometimes extremely hot summer and the resulting dry roads, you as a motorist need to prepare for the new weather conditions. In particular, fog plays a major role in autumn, as it is often underestimated.
Better safe than sorry
Fog regularly occurs near bodies of water and rivers. If your route takes you close to water, especially in the early morning hours, you should approach this passage carefully and look around. It is advisable to switch on your dipped headlights and reduce your speed as soon as you approach or see a cloudy haze. As the fog affects your visibility, you should also increase the distance to the vehicle in front for safety reasons. In this way, you can be on the safe side even in the event of unexpected fog. Some radio stations provide information about poor visibility, so it is worth listening to them from time to time.
The right light in fog
If you do not see the fog beforehand and unexpectedly find yourself in a fog bank, you should urgently reduce your speed and switch on the low beam manually. The automatic light control system, which many vehicles have, usually cannot switch reliably in these weather conditions. This automatic system is based on the detection of differences in brightness and cannot always detect fog or can do so with a longer delay. Therefore, you should set the low beam manually in any case.
The daytime running lights will not give you enough brightness in this situation, so you should not rely on them in fog. Visibility is even worse with high beams. The finer water beads of the fog reflect the strong light. This reduces your visibility enormously. If your visibility is less than 150 metres, you should use your fog lights - if you have them. These have been specially developed for difficult visibility conditions and offer you the best possible view.
If visibility drops below 50 metres, it is permitted to switch on rear fog lights. Otherwise, the lights will dazzle those behind you. In addition, the maximum speed on the motorway is 50 km/h when visibility is below 50 metres. It is essential to remember that individual eyesight also plays an important role, especially when visibility is impaired. Only drive as fast as you feel safe. In this way, you will not only protect yourself, but also other road users. The delineators on the right-hand side of the road serve as an orientation aid.
Bridge danger zone
As fog is most common on waterways, caution is advised on bridges in particular when temperatures are very low. Cold winds and possibly sub-zero temperatures can make roads particularly slippery and slippery. Pay even more attention to your own safety here and drive carefully.
Basically, driving in fog is very tiring - especially for your eyes. Staring at a wall of fog for a long time can cause your eyes to start burning. If this is the case, you should definitely take a short break so that your eyes can relax. This will also reduce the risk of possible further consequences such as headaches. The next time you get caught in fog, here are some things to keep in mind: Reduce your speed, increase your distance and switch on your dipped headlights. That way you will always be on the safe side.
McParking wishes you a safe journey. We look forward to welcoming you soon at our car park at the airport!