Just a few minutes from the terminal
Free shuttle service
over 3,000 parking spaces
Opening of Berlin Brandenburg Airport / BER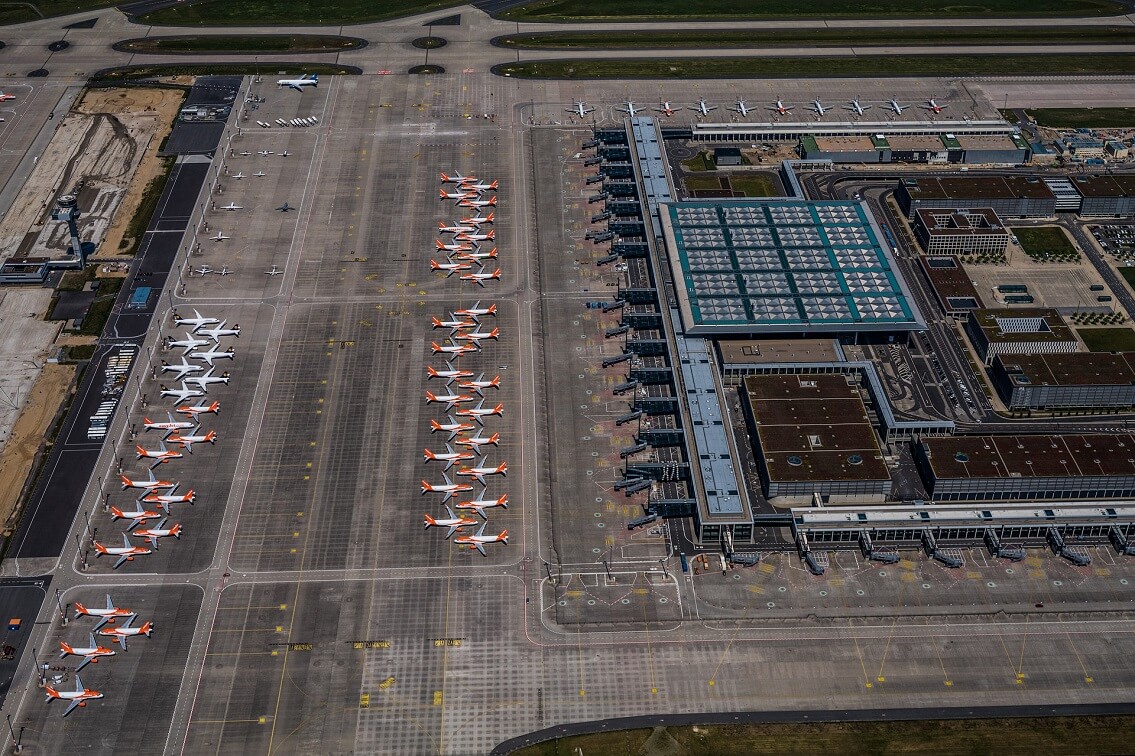 After many years of teething problems, Berlin Brandenburg Airport opened Terminal 1 on 31 October 2020, meaning that the last flight from Tegel Airport will leave on 8 November 2020. When Tegel Airport opened, the first to land was a civilian airline from Air France. This will also be the last to take off from the airport.
However, the airport will remain operational for another 6 months for safety reasons. Shortly before the opening day, heavy equipment such as aircraft stairs and tugs had to be brought to the new BER airport. On 31 October, the first landings by Lufthansa and EasyJet took place. There was no big celebration because of the pandemic. There was only a press conference. Afterwards, the guests of the two airlines were welcomed. The first flight to take off from BER was to London-Gatwick at 6:45 a.m. on 1 November. From 7 November, there will be significantly more departures and arrivals, when aircraft from Austrian, KLM, Brussels Airlines or SAS will take off. From Sunday, 8 November 2020, normal operations are planned. The shops in the airport will also open on the opening date. A few days before the airport opened, on 25 October, Deutsche Bahn opened the BER railway station. One day before, the S-Bahn began operating in the direction of the airport with a special timetable. The regular schedule started a few days later, on 29 October. Unfortunately, the original plans for possible passenger numbers are completely invalidated by the current crisis and it only remains to be seen how air traffic will develop in the coming months. Around 20,000 people will work at the entire BER site, including Terminal 5, which was formerly Schönefeld Airport, including security personnel, ground handling service providers, the Federal Police, the fire brigade and employees of around 100 shops.
In addition to the sharp rise in construction costs and the multiple postponements of the opening, COVID-19 has now been added to the mix, making the launch less than auspicious. The current situation also poses great challenges for our company. In addition to the final closure of our location at Tegel Airport, we have decided to close our car parks at Berlin-Brandenburg Airport and also at Halle/Leipzig Airport until 25 March 2021. We will use this time intensively to complete our multi-storey car park at our BER site and also update many aspects of our booking system.
From the end of March 2021, we hope to welcome you as our customers again and without such severe restrictions due to Corona.
Your McParking team