Leipzig Airport – Convenient booking of your parking space instead of tedious searching
Airport between Leipzig and Halle (Saale)
Since Leipzig-Halle Airport opened in 1927, it has had a long history. Originally it was one of the largest in Germany, and today Leipzig / Halle is still one of the most important and largest cargo airports in Europe! And although it primarily plays a role in air freight traffic, it has also gained importance in the area of passenger transport. Despite the good transport links, many people do not want to travel to the airport by rail or other public transport, but prefer their own car – and that is understandable. Especially if you want to take the whole family on holiday, when things quickly become difficult taking the train or bus. All those bags and suitcases also need space!
Leipzig / Halle Airport – Safe parking near the airport
Car parks located close to the airport are very much in demand, and the crowds there hardly encourage the holiday mood. But this does not have to be the case! With McParking you can easily book your desired airport parking space at Leipzig (LEJ) online. Apart from our primary location in Berlin, we are also present in other large cities, such as Leipzig. This means that people travelling via Leipzig / Halle Airport can also benefit from what we offer. Our car parks are located about 7 km east of the airport for the cities of Leipzig and Halle. They offer all the usual McParking advantages. We would like to mention the video surveillance of our car park, and our shuttle service. There is no need to rush to the airport terminal, because we take you from your car and back, in comfort.
Low-cost, safe parking near Leipzig-Halle Airport
At Leipzig Airport we offer 550 parking spaces for a wide variety of vehicles. At McParking you also benefit from our favourable parking fees and security. The whole area is well lit, fenced and monitored around the clock. By parking your car with us, you can relax and start your holiday without worries. Our modern shuttle bus takes you to the airport terminal, and then picks you up on your return. If you have any questions, our trained and friendly staff are available 24 hours a day.
McParking Leipzig – more than just parking
You land at night, and now you are too tired to drive straight home? No problem! Northwest of our car parks are several hotels and guesthouses. For example, the ibis Styles Leipzig can be reached in about 7 minutes on foot.
Further advantages of McParking – why you should park with us
As a McParking customer, you benefit from a wide range of advantages:
Attractive prices by early booking online
Discounts for motorcyclists
Comfortable shuttle bus to / from the airport
Cancellations free of charge up to 24 hours before departure
Discounts for ADAC members
Special parking facilities for people with disabilities
Particularly safe parking spaces for women
Parking without height limits
Especially at the multi-storey car parks at Leipzig / Halle Airport there is a maximum vehicle height limit.
Book an airport parking space at Leipzig with McParking now!
Book your desired parking space in Leipzig today using our convenient online system, and look forward to a relaxing holiday. If you have any questions, just call us on +49 (0)30 41 400 300 or e-mail us at info@mcparking.de. More information can also be found on our website.
In addition to the Schkeuditz district, we also offer many parking facilities at the Berlin-Tegel (TXL) and Schönefeld (SXF) / Berlin-Brandenburg (BER) airports.
Book online now
Select the airport where you need to book a parking space in Leipzig with McParking. Enter your travel dates and click "NEXT" to find your parking space. Then all we need are a few details from you and your parking space will be booked. Use our comfortable, direct shuttle service to reach the airport and enjoy your holidays, right from the first day.
When you return you will find us at the agreed meeting point. Our friendly staff will help load your luggage and take you safely to your vehicle.
Book your parking space with McParking, and benefit from safe, low-cost parking near the airport. Let us chauffeur you comfortably to the Leipzig, Tegel, Schönefeld or Berlin Brandenburg airports. Our qualified partners are also available at other airports.
Do you need more?
Book upgraded option
Use our "McParking Plus additional options" and start your journey feeling even more relaxed!
Information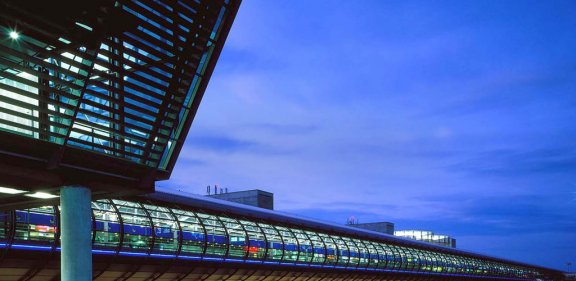 Have we convinced you?
Book your parking space at Leipzig / Halle Airport now!
Don't wait too long, book your desired parking space at Leipzig Airport today. With our customer-friendly online booking management system, you can reserve a parking space in minutes. We are always happy to welcome you on-site, or take your call if you have any questions.