Air travel in winter - what do you have to watch out for?
Many people would like to travel even in the dark season. Since long distances can be covered in a short time by plane, a flight is a good way to escape to warmer climes. But flights to regions with mountains and snow are also popular in winter, as they make the long and arduous journey by car or train much shorter. But there are many things to consider when travelling in winter, because travelling in winter is different from travelling in summer. We would like to provide answers to the most important questions about, among other things:
Which destinations are flown to at all in winter and are worthwhile?
What needs to be considered before and after the trip?
What luggage rules apply in particular to winter luggage (keyword: skis)?
What is the best way to get from my destination airport to my holiday destination in winter?

If you've had enough of the dreary season - and if you're honest, winter in our country is characterised more by grey days than those with white splendour - the question arises:
where to escape to? Which destinations can I reach as easily as possible and without changing trains?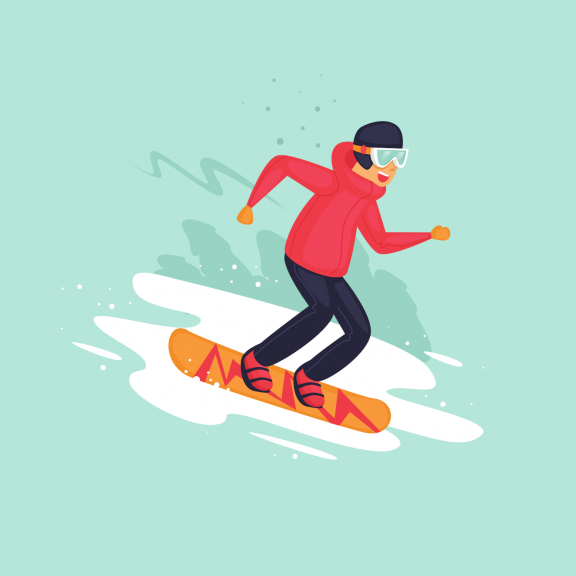 What destinations does BER offer?
Berlin Brandenburg Airport (BER for short) offers direct flights to warm-water destinations as well as to destinations where winter sports enthusiasts get their money's worth.
The classic warm-water destinations in winter are the Canary Islands (e.g. Gran Canaria, Tenerife, Fuerteventura) and the beaches of the Red Sea (Hur-ghada and Sharm el Sheikh are particularly popular here). Both easyJet and Ryanair fly to these destinations non-stop from BER and the flight days can be booked flexibly. The Mediterranean is usually a little too cold for a beach holiday from December to April and is more suitable for individualists who want to get to know off-season holiday destinations. Those with a little more time and money can take a long-haul holiday, and here too there are interesting direct destinations from BER: with Norse Atlantic you can fly to the always warm Florida / Fort Lauderdale, with Qatar Airways to the desert city of Doha - and from there to many other warm destinations, and the low-cost airline Scoot flies to tropical Singapore all year round.
Many travellers, however, prefer to save their bathing fun for the summer and head for classic winter sports destinations. Destinations near the Alps are of particular interest to skiing and tobogganing enthusiasts. Airlines such as easyJet, Ryanair and the Luft-Hansa Group offer flights from BER to Basel, Zurich, Geneva and Milan. The airline SkyAlps even flies to the small airport of Bolzano and thus into the heart of South Tyrol. In addition to the classic Alpine winter holiday, however, slowing down in Scandinavian winter landscapes has also become increasingly popular in recent years. The Norwegian airline flies to Bergen, Trondheim and Oslo, a number of carriers to the Swedish capital Stockholm and Finnair to Helsinki. The idea of spending the uncomfortable days in a Scandinavian log cabin by the fire has given these destinations a significant boost for the winter months even before Corona.
What are the special features of flights in winter?
First of all, it should generally be noted that flights are a fast and safe alternative to other modes of transport, even in winter. Particularly when snow and ice make rail travel difficult and driving on motorways requires special caution, aeroplanes are largely independent of the weather.
However, it is important to allow sufficient time for the journey to the airport. If the journey is particularly long and leads along motorways, it is advisable to check the weather conditions early and set off early. We recommend winter tyres for your vehicle. For the parking period during the actual flight, it is important that the vehicle is not only safe, but also protected from ice and snow. Nothing is more unpleasant than having to shovel the car free of white snow after the journey or not being able to find the car at all because it is covered in snow. McParking's modern multi-storey car park, including shuttle service, offers an inexpensive alternative to the expensive car parks directly at BER. At McParking, the car is secure and protected against all weather conditions.
At the airport itself, you can expect security checks to take longer than in summer. This is simply because people dress more in winter than in summer. Winter jackets and coats, like all other items, must also be placed on the conveyor belt. The same applies to boarding, by the way: due to the many yes-checks, this also takes much longer in winter than in summer, interestingly enough. However, you should not completely do without a jacket and carry it in your suitcase. Unfortunately, even in winter, boarding and disembarking often takes place via the so-called bus boarding, where passengers are taken by bus from the terminal to the aircraft. They then board the plane via an outside staircase, where they often have to wait because of the crowds. If you do not want to arrive sick at your holiday destination, it is recommended that you always take a thick jacket with you on the plane in winter.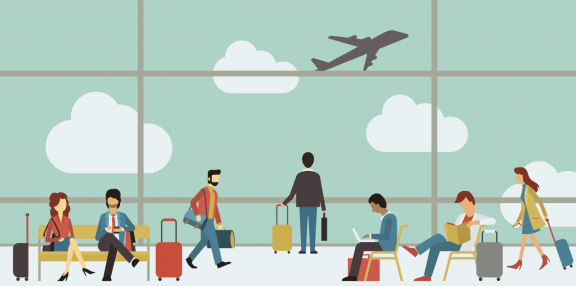 What about luggage when travelling by air in winter?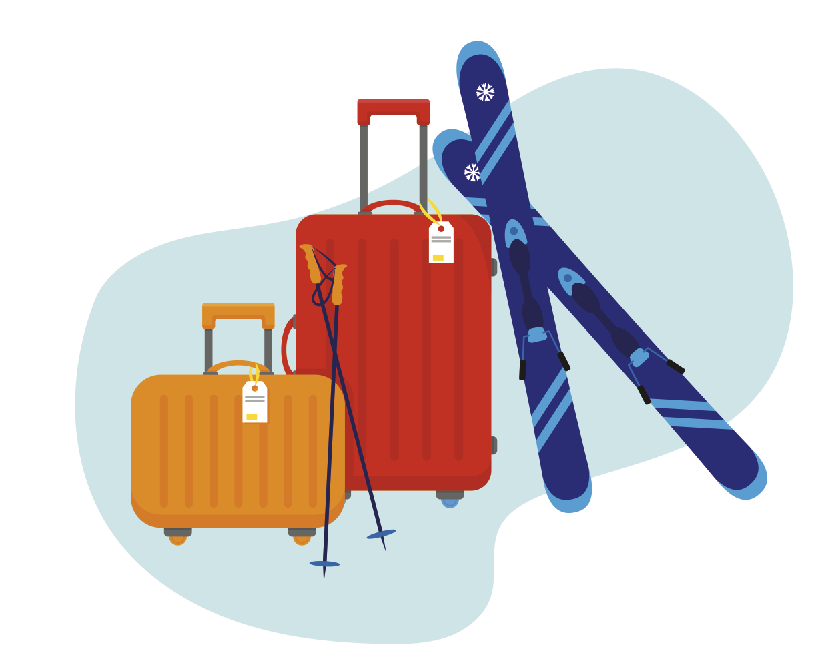 The question as to the conditions under which luggage can be taken on board an airline is a legitimate one. Especially with regard to the sometimes very extensive ski equipment, it is worth taking a look at the "small print" when booking the trip. easyJet, for example, charges €42 per route for taking skis, with Ryanair even €45. And that is in addition to the already very high charges for normal pieces of luggage. This means that transporting skis can quickly become more expensive than the actual flight. In many cases, it is therefore worthwhile to rent the equipment locally and not to transport it by plane. In any case, you should plan exactly what you really need to take with you and what can be purchased locally.
What is the flight like in winter?
As already mentioned, the aeroplane has the advantage that - apart from the airport - it can fly largely independent of the weather. If there are long traffic jams on the motorways because the gritters can't get through or the trains are cancelled because the points are frozen, the airlines usually fly according to plan. Only the de-icing of the wings can lead to longer waiting times in winter. But cancelling a flight because the weather is too bad is the exception rather than the rule.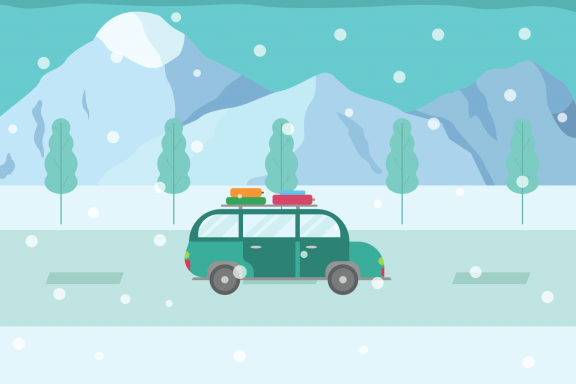 What transport options are available locally?
Those who have not booked a package tour - and that is certainly the majority, especially in winter - are faced with the question of how to get from the airport of arrival to the holiday destination. With a package tour, the answer is taken away from you, as the transfer has usually already been organised by the organiser. In the case of individual travel, the question of whether excursions are planned from the holiday destination or even a change of location is certainly in the foreground. Especially for holidays in Florida, a rental car is a good idea, as it allows you to experience the diversity of the holiday destination. For the classic winter holiday spent in the mountains of Europe, a rental car is more of a nuisance. Not only do you have to make sure that the appropriate winter equipment is available - there are surcharges of around €10 per day. Above all, you have to find a parking space for the rental car on site. Since space is usually scarce in the ski resorts, additional costs must be planned for here as well. In the end, the rental car will be standing around uselessly most of the time during your stay. It is therefore worth looking at alternatives:
Many ski resorts offer shared taxis to take guests from the airport to the final destination. Here it is worth looking at the website of the local tourism association or that of the arrival airport. There you will find tips on how to get there and how to make it as smooth as possible. In addition to shared taxis, there are also numerous public and private bus companies that specialise in winter transfers. Here, too, a look on the internet will help, where local providers are listed.
What do I have to bear in mind on the return journey?
First and foremost, you should plan enough time - just as you did for the outward journey. If the weather doesn't cooperate, especially in winter, stress quickly sets in. If you have enough time, it is not so bad if the motorway to the airport is not clear or if you can only drive at 30 km/h because of black ice. The primary goal of any journey is safety and integrity. Therefore, a buffer should always be planned for your departure so that you don't have to rush.
Once you have reached your flight on time and landed safely at home, you can only hope that your car will start again. Especially in winter, it can happen that the battery has discharged during longer periods of standing and professional jump-starting assistance is required. Caution: In most car parks operated by airports, contact persons are not on site but in the parking control centre far away. So when booking a parking space, make sure that a member of the service staff is always present around the clock. This person can call for help if necessary or - and this should be the rule with reliable parking providers - have his or her own starter kit and assist with starting the car. The parking provider McParking is exemplary here and is always prepared for such emergency situations.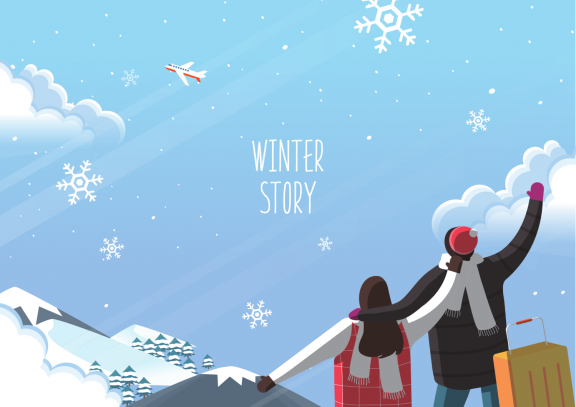 Conclusion
Today, taking pets on holiday is a matter of course. This also applies to air travel. Most airlines will take pets on the plane under certain conditions. However, this usually only applies to dogs and cats. Small animals, especially rodents, and birds are not allowed on board for safety reasons.
Smaller animals are allowed to fly in the cabin, larger ones must be transported in properly equipped transport boxes in the cargo hold. Not all animals can cope with transport in the hold without problems, even though the airlines make every effort to ensure the welfare of the animals.
No matter to which country the holiday trip goes, a rabies vaccination certificate is required everywhere. Normally, the standard EU pet passport in combination with a microchip is sufficient. Some countries have special entry and quarantine regulations. You can find out what these are in individual cases from the consulate of your destination country.
In some cases it is better to have pets looked after in a boarding or foster home. Cats, small animals and birds can even stay in their familiar surroundings if they are cared for regularly. They generally feel more comfortable at home than when travelling.
Source study: https://www.presseportal.de/pm/83422/3010318
Link IATA: https://www.iata.org/
Link German Animal Welfare Association: https://www.tierschutzbund.de/