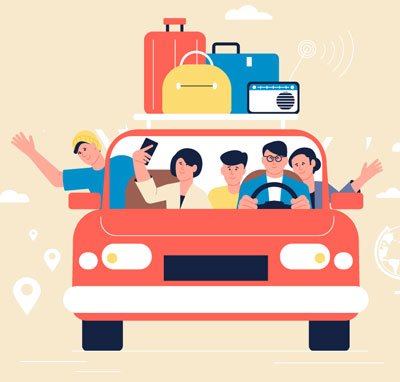 With your own car to BER Airport
The German capital is the third largest airport location in the Federal Republic after Frankfurt and Munich. Berlin Brandenburg Airport with the abbreviation BER, often also called "Willy Brandt" Airport, is located 27 km south of the city centre near the former Schönefeld Airport, which has now been integrated into Berlin Brandenburg Airport as Terminal T5. However, the most important terminals are T1 and T2 in the new airport building. Many major airlines such as Lufthansa, TUIfly, Air France, Eurowings, easyJet and Ryanair take off and land there. The construction of the airport began in 2006. In 2020, nine years later than planned, it finally opened and has capacity for an initial 27 million passengers. Berlin-Tegel Airport was closed for this purpose. This makes the new airport an important hub of Germany's infrastructure and will cope with a growing volume of passengers. Perhaps your route to one of the numerous flight destinations at home and abroad also leads through the airport, whether as a holiday or a business trip? Then you should think about how to get to the airport in good time.
No stress on the way to the airport!
There is more than enough to consider when travelling by air: You definitely don't want to miss the flight, so you have to calculate when you have to leave in order to arrive in time for check-in. For the arrival at the destination airport at home or abroad, a shuttle to the destination or the pick-up of the rental car must be organised, which should be booked or reserved in advance. Then, of course, you still have to pack and excitedly check the day before departure to make sure you haven't forgotten anything. Air travel can be quite nerve-wracking! The last thing you need is stress about the journey to the airport, especially with the traffic situation and the crowds in the metropolis. Stress and time pressure can directly spoil the holiday mood or make what should have been an exciting business trip seem like an annoying chore. When you return, you may not be pressed for time, but after an exhausting flight you certainly don't have the nerve for a stressful drive home from the airport.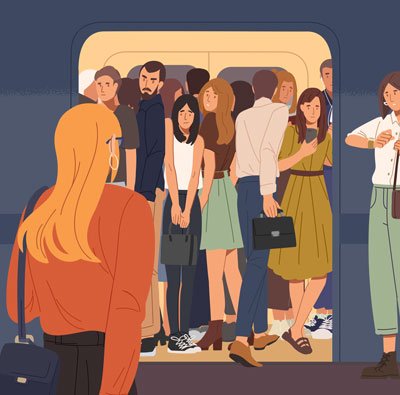 What is the best option for getting to and from the airport?
Many people associate travelling to the airport by car with a lot of stress and high costs. But there are many advantages to using your own vehicle instead of public transport:
You travel self-determined and independently: With public transport, you are dependent on their timetables. You cannot influence the traffic situation any more than you can with your own car. However, since it is always advisable to get to the airport in good time before your flight, you have to leave much earlier by public transport in order to keep to the timetables and not miss any connections. Smooth travel is also out of your hands: What if a line is closed and the tram is completely cancelled? It will hardly be possible to find an alternative in time. And if you really calculate all possible delays due to cancellations and closures, you will have to set off disproportionately early when using public transport. Less stress looks different! The journey itself also costs you more time with public transport: while you need about 40 minutes from the city centre to the airport by car, for example, you are on the road for almost an hour by tram and have to change trains several times depending on your starting point. During the holiday season, when departures can occur before 06:00 in the morning or arrivals after 22:00 in the evening, there are no public connections at all. The transfer by taxi can then quickly exceed the travel budget. If you travel by car, you can decide for yourself when to set off, and you don't have to leave unnecessarily early to be prepared for all eventualities. If you look at the Google Map and find that a road on your way is closed due to an accident or road works, you can always avoid it and look for an alternative route yourself. With a taxi, you also have the advantage that you can set off at a time of your own choosing, regardless of timetables. But quite apart from the extremely high cost of a taxi ride to the airport, you are dependent here on the organisational talent of the taxi driver in the event of traffic obstructions. And he is hardly in as much of a hurry as you are without the prospect of a flight.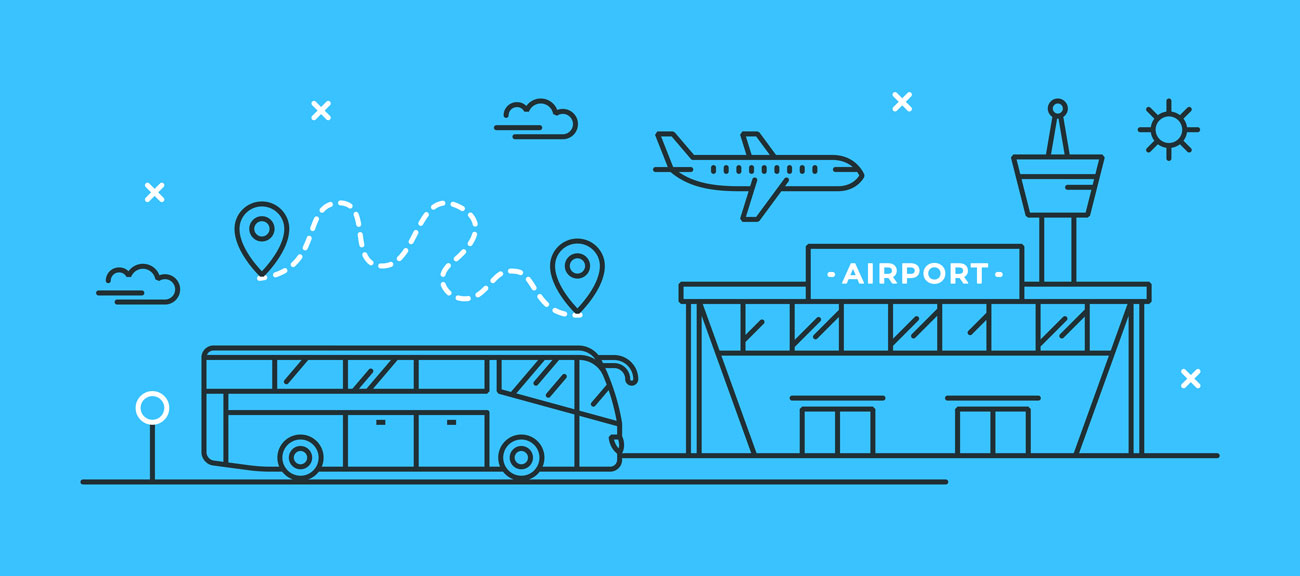 You transport your luggage comfortably: On every flight you have at least one large backpack with you, usually a suitcase and, depending on the duration of the journey, even more. Especially if you are going on holiday as a family, you will have a lot of luggage. Squeezing into a crowded tram or underground train, at worst during rush hour, and rushing through the crowded corridors to the next connection is anything but pleasant. There is also the risk of forgetting a bag in the tram, metro or bus or losing it on the way. That is extremely annoying in any case. In the worst case, if the forgotten or lost piece of luggage contained valuables or was indispensable for the journey, you will have to turn around and go searching in the hope of an honest finder - and your plane will very likely take off without you. With your own car, you load your luggage and transport it to the airport in a relaxed manner.
You can leave right away after your return: you've made it through the return flight, possibly have to endure jet lag, drag yourself wearily through the baggage claim and want to get home quickly. Because as beautiful as every journey is - there's no place like home! Fighting with other arrivals for a taxi or starting the odyssey with public transport is probably not your first choice. What could be better than walking to your own car after hours of flying, stowing your luggage comfortably and being able to drive straight home?
Of course, it is especially convenient to be brought to the airport and collected by friends or family. But this is not always easy to organise and it is also stressful for your private "chauffeur" to fight his way through the traffic on the airport grounds to a free space among the short-term parking spaces at the airport. If there is no free space, you will have to get out quickly under stress on arrival and if there are delays on return, your pick-up driver will have to manoeuvre around the site until you arrive so as not to block the holding zone. It is therefore advisable to save others the hassle and arrive by car yourself.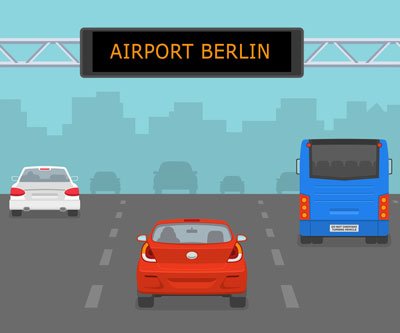 How do you get to the airport by car?
The new airport can be reached from all directions via several motorways and federal roads such as the A100, the A113, the A10 and the B96a. There is a dedicated motorway exit "Flughafen Berlin-Brandenburg".
Parking at the airport
The airport itself has five multi-storey car parks and three car parks, each of which is located near the corresponding terminals T1, T2 and T5. From there, a 10-minute walk is required. In addition, there are parking facilities a little further outside, which are provided by various independent providers.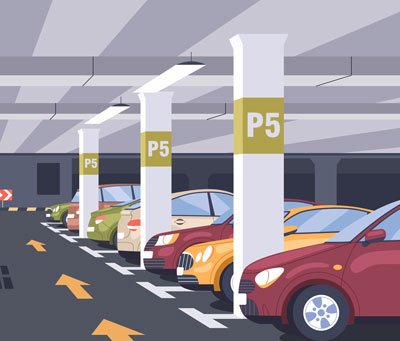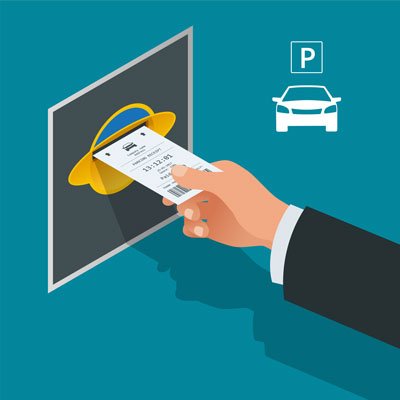 How much does the airport charge for parking?
There are parking spaces available for travellers on the airport grounds, which you can use to reach the terminals on foot.
These are the costs in the airport's five car parks:
1 hour: €7
24 hours: 49 €
One week: 199 €
Two weeks: €239
Each additional week: 40 €
Parking directly at the terminal can therefore be very expensive if you park for several days or even weeks. However, a holiday, or sometimes a business trip, requires a correspondingly long parking period. The money you unnecessarily spend on parking fees could certainly be put to good use elsewhere in your travel budget.
Even if you are willing to pay the high costs, there is another problem: the parking spaces directly at the airport are often fully booked in the peak travel season, during school holidays. Given the high crowds, you can expect annoying waiting times and chaos when you arrive or return if you just want to get to the departure lounge or home as quickly as possible.
In any case, it is worthwhile to use the parking spaces around the airport offered by so-called off-airport parking operators. These are much cheaper and you don't have to worry about their availability. You can choose from a variety of providers. You should make sure that you are dealing with a transparent and reputable provider that offers you a safe parking option.
Relaxed parking at the airport with McParking
You can park your car at Berlin Airport particularly reliably and inexpensively with McParking. We are the industry leader for parking at BER Airport - and rightly so! With us, you get better conditions at a lower price than in the multi-storey car parks and parking areas directly at the airport. Our parking facilities are located in Berlin-Bohnsdorf and can be used conveniently and easily.
We offer:
The largest multi-storey car park in Berlin: you won't find this anywhere in Berlin - but with us! In our multi-storey car park with over 2000 parking spaces and automatic entry and exit control, you can enjoy convenient and easy parking in and out.

Easy reservation and payment: With just a few clicks you have reserved your parking space at McParking and can concentrate on other things again. Simply select BER Airport, enter your travel details and choose one of the available parking spaces - done! You can pay conveniently with PayPal, your credit card or by instant bank transfer.

Economic parking: You can do without high prices? We can too! At McParking you benefit from low prices for parking spaces. Early planning is worthwhile, because we also offer early booking discounts for online bookings.

Parking spaces with charging station: There are more and more e-cars. Due to climate policy, more and more e-cars are going into production and are becoming more popular with drivers. We are aware of this and therefore also offer parking spaces with charging facilities so that you, as the owner of an e-car, are mobile again for the journey home after your arrival. For a small flat fee of 25 euros, one of our employees will charge your e-car so that you can get into your electric car and drive off without further delay after landing and collecting your luggage. The flat rate applies regardless of how much electricity is needed to fully charge your e-car.

Parking spaces for every car: So you can also drive to McParking with your e-car without any problems. But you also don't have to worry about whether your car is suitable for our parking facilities: no environmental badge is required to park your car in McParking's parking areas. We also have space for vehicles with excess length.

Secure parking spaces: Our parking spaces are fenced, lit and monitored. We make sure that your vehicle is secured while you are away.

Long-term parking: Are you going to be abroad for a long time? We also have parking spaces for long-term parking.

Optional key handover: Handing over the keys is not compulsory with us. If you wish, you can still leave your car key with us. We will keep it in a safe during your trip.

Free and convenient shuttle service: Our shuttle service is available for the route between our car parks and T1 and T2. After you have already decided to travel in your own vehicle and escape the overcrowded public transport, you do not have to be squeezed into small vans for the last few metres together with your luggage. We offer you a shuttle with modern large-capacity buses that depart every 20 minutes and take you to the check-in in just a few minutes. This is a relaxed, reliable and comfortable way to get from the car parks to T1 and T2 without having to pay extra. In order to optimally time the transfer from the car park to the terminal, simply look at the online shuttle tracking, which shows you exactly the current position of the buses.

Staff on site: Should something go wrong or should you have any other wishes or questions, you are not alone. Nor do you have to reach for your mobile phone and phone around to reach us. We at McParking do not sit isolated in an office miles away, but are right there to help you with our service. McParking's management is located directly at the parking area or car park on site. This means that if you have any questions or problems, a contact person is always guaranteed to be at your side, 24 hours a day. You are not alone with your suitcases either, as our staff will be happy to help you load your luggage.

No cancellation fee up to 24 hours before departure: If you travel by car, you eliminate the risk of missing your flight due to problems with public transport. Nevertheless, you may not be able to take your flight at all. Even if your plans change at short notice, you haven't paid for nothing with McParking, because with us you can cancel your reserved parking space free of charge up to 24 hours before departure.

Money-back guarantee: Despite all our precautions, something can always come up - we are aware of that too. If you do miss your flight, we will not charge any cancellation fees even less than 24 hours before the scheduled departure if you have booked our money-back guarantee. This also applies if the flight is cancelled and you have already reserved a parking space with us. There is a change of plans during your trip and you leave earlier? We do not stubbornly charge the price according to the travel dates you specified when booking. If you return earlier than planned, you also only pay for the number of days you actually used our parking facilities.
Doing without your own car: Not an option
Avoid the stress of public transport and don't depend on rigid timetables and adherence to them. With your own vehicle, you can set off when you want, leave on time and still not have to set off unnecessarily early because you don't want to miss any connections. You can also do without the strain of lugging your bags and suitcases through the crowds on public transport. If you drive yourself, you can transport your belongings to the airport in comfort. The only thing you have to do: Check the traffic situation in advance and then look forward to a relaxed drive to your parking space at the airport, which you have reserved and paid for in advance.
Summary tips for parking at Berlin Airport
To ensure that everything runs like clockwork and you don't experience unnecessary stress when looking for a parking space at the airport, you should take our tips to heart.
Make sure you book your parking space online in good time: Even if there are usually no bottlenecks in the off-airport parking spaces around the airport, a flight is the wrong time to take a chance. When booking a parking space online, the earlier the better! Get an overview of the available parking options and associated costs as early as possible. With McParking, you can make an online booking in advance. This way, you can secure a parking space in advance and avoid any surprises with the costs. This saves you nerves and, above all, time, which you can put to good use if you do run into a traffic jam.

Check the traffic situation: To avoid traffic jams in the first place, you should find out about the situation on the roads before you leave. Especially in and around the city, traffic jams can occur at certain times and the next construction site is rarely far away. It's up to you when travelling to the airport in your own car! Take a look at the Google Map and plan a different route and more time if necessary in case of traffic disruptions. To be on the safe side, check the traffic situation not only during the week at rush hour, but also on seemingly calm Sundays or public holidays.

Let friends or family know about your trip to the airport: as mentioned earlier, you don't have to hire anyone as your private chauffeur to take you to and from the airport. However, it doesn't hurt to let a friend, colleague or someone in your family know when you plan to go to the airport so that they can stand in for you as a driver in case of an emergency. If there is an unexpected breakdown such as a tyre or engine failure, this person can take you to the airport and take care of matters without you having to cancel your flight because of such a nuisance.