Just a few minutes from the terminal
Free shuttle service
over 3,000 parking spaces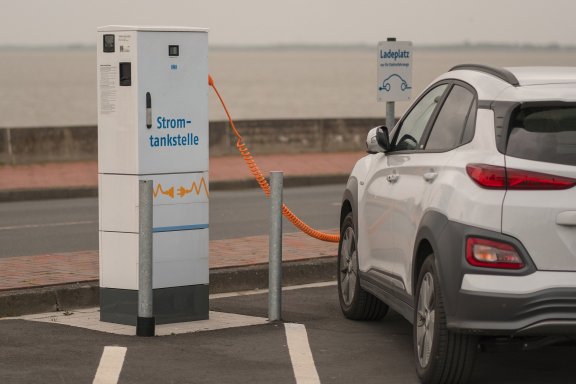 Parking spaces with charging station at BER
Inexpensive parking spaces for electric cars near the airport
The topic of electric mobility has been under discussion for several years, but in Germany electric cars had been comparatively slow to catch on. Different plug standards, varying charging capacities at charging points and the limited availability of charging stations have all played their part. But more and more manufacturers have expanded their product portfolios and are increasingly producing electric cars - from small cars to SUVs. Last but not least, the manufacturer Tesla has also reignited the topic of electric mobility with the Tesla Gigafactory Berlin-Brandenburg (Gigafactory 4).
At and around BER Airport, there are now many charging stations for all common plug systems at car parks. So if you have parked your electric vehicle in one of McParking's many inexpensive parking spaces and arrive back in Berlin after a holiday or business trip, you won't have to look far for a charging station.
Parking garage at Berlin Airport
We at McParking have used the time of the airport expansion and reconstruction to build our own huge multi-storey car park for you - our customers. With around 2,000 parking spaces, we now have the largest multi-storey car park in Berlin. You can now park your vehicle under cover and benefit from the usual comfort and advantages of McParking. We will open the multi-storey car park on 23.06.2021, but you can already book your parking space now!
This will provide you with an excellent alternative to the older P3 multi-storey car park. In the P3 multi-storey car park at Berlin-Brandenburg Airport in Schönefeld there are 5 charging points, each with 2 charging options. These all operate with a capacity of 22 kW at 400 volts and 32 amps. Depending on the charge level and capacity of your battery, the charging process may therefore take a while. In the meantime, you can check out the shopping opportunities at Berlin Airport, have a snack at the snack bar or take a rest before your return journey.
Charging service from McParking
In addition to our new multi-storey car park, we have also made further improvements. Thanks to 10 powerful charging columns, we can charge up to 40 electric cars. The special advantage with us compared to surrounding charging facilities: You don't have to worry about anything! Simply leave your car key with us and one of our McParking employees will "fill up" your car for you. When you return, you don't need to worry about where you could charge your vehicle or plan for any waiting time. Just get into your car and drive off. You can use the McParking charging service for a small fee (at no extra cost).
Book your parking space online now
Select the airport above where you would like to book a parking space with McParking, e.g. Berlin-Brandenburg. Then enter your travel date and click on "NEXT" to find your parking space. After that we only need a few details from you and your parking space is already reserved. Whether you have a normal car, a motorbike, a vehicle with excess length or an electric vehicle - we have parking spaces for every type of vehicle. Thanks to the numerous charging stations located at and around BER Airport, you can charge your electric car without much difficulty before your return journey.
Use our comfortable shuttle service directly to the airport and enjoy your holiday from the first day. After your return, you will find us as usual at the agreed meeting point. Our friendly staff will help you load your luggage and our shuttle will take you safely to your car. Reserve your parking space with McParking and benefit from safe and affordable parking close to the airport. Let us chauffeur you comfortably to Berlin Brandenburg Airport.
Do you need more?
Book upgraded option
Use our "McParking Plus additional options" and start your journey feeling even more relaxed!
Information
E-Parking at BER Airport and other locations
You appreciate the convenient booking / reservation option at McParking's car parks in Berlin and are now wondering what about locations away from BER Airport? Quite simple: our qualified partners are available to you there. In addition to Berlin-Brandenburg Airport, the charging infrastructure has also been significantly expanded at many other airports or in their immediate vicinity. The GoingElectric directory currently lists (as of 05.2021) 24,195 locations with 69,380 charging points throughout Germany. Experience shows that you will have no difficulty finding a charging station or an e-parking space for your electric vehicle at large airports. The friendly staff at McParking or one of our partners will be happy to help you at any time.