Schönefeld Airport – Parking at the airport
Schönefeld Airport (or Berlin-Schönefeld Airport) is one of the largest international, commercial airports in Germany. Berlin is also a magnet for tourists, and is visited by large numbers of business travellers. Last but not least, it is simply a huge metropolitan region with a population in the millions, who regularly fly for their holiday. Parking spaces near Schönefeld Airport therefore become very attractive. During the holiday season the prices of parking spaces in the vicinity of Berlin airports rise.
Park safely and conveniently at Schönefeld Airport with McParking
Here at McParking we recognized this problem and decided early on to take action. We began offering a sufficient number of supervised parking spaces at Schönefeld Airport (SXF / BER), including for exotic and large vehicles, which you can book at low prices. This plan has worked out well and now several million satisfied customers have placed their trust in our experience and competence in car park management. Our parking spaces are located in the vicinity of Schönefeld Airport, in the area of Business Park Berlin (East of the Schönefelder lakes).
Begin your holiday from the car park at Berlin-Schönefeld Airport
To make your choice of parking space as convenient as possible, we have developed a special online booking service. On our website you can easily select a parking space and choose how long you need to book it for. On the day of arrival you only need to drive to your parking space, and then our trained, friendly staff take care of everything else. Our large, comfortable shuttle bus, which leaves every half-hour, takes you from the car park to the terminal of Schönefeld Airport in just 5 minutes, and then back to your car when you return.
During your absence you do not need to worry about your car
Despite our low and attractive prices you we do not save on security! All McParking car parks are well lit, securely fenced and monitored 24 hours a day. You can go on holiday or a business trip without any worries. If you have any questions or need further information, you can always contact our staff.
Parking at the Berlin-Schönefeld airport – emission sticker, cancellation and discounts
Your car has no emission sticker?
No problem. Our car park at Schönefeld Airport (SXF) is not located in an environmental zone.
You have to cancel your trip at short notice?
This is usually not a problem either. At McParking you can cancel your booking up to 24 hours before the originally planned departure.
Are there discounts or other benefits?
Yes, there are! As a McParking customer, you can benefit from especially low online early-bird pricesor
or ADAC membership discounts.
The best part for you is that, unlike other car parks located in the vicinity of Schönefeld Airport,with us you can save up to 20 - 30 %.
Especially at large airports like Berlin Schönefeld, parking facilities are rare and usually expensive.
Book your parking space at Berlin-Schönefeld Airport with McParking now!
Book your parking space at Berlin-Schönefeld today using our convenient online booking system, and look forward to a relaxing holiday.
If you have any questions, call us on: +49 (0)30 41 400 300 or e-mail us at: info@mcparking.de. You can find more useful information on our website.
In addition to the Berlin district of Bohnsdorf, we also offer many parking spaces at Tegel and Leipzig / Halle Airports.
Berlin Airport - Book online now
Select the airport above where you would like to book a parking space with McParking in Berlin. For example, BER airport or at another location with one of our partners. Then enter your travel date and click on "NEXT" to find your parking space. After that we only need a few details from you and your parking space is already reserved. Use our comfortable shuttle service directly to the airport / terminal and enjoy your holiday from the first day.
After your return, you will find us as usual at the agreed meeting point. Our friendly staff will help you load your luggage and our shuttle will bring you safely to your car.
Reserve your parking space with McParking and benefit from safe and affordable parking close to the airport. Let us chauffeur you comfortably to Berlin Brandenburg Airport. Would you also like to benefit from our advantages away from our Berlin location? No problem! Our qualified partners are at your disposal for other airports.
Do you need more?
Book upgraded option
Use our "McParking Plus additional options" and start your journey feeling even more relaxed!
Information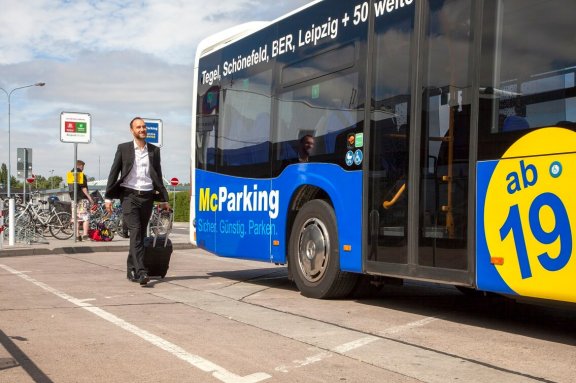 Have we convinced you to try our service portfolio?
Book a parking space now at Schönefeld Airport (SXF / BER) using our online booking system. If you have any questions, no matter how minor, please contact us by e-mail or simply give us a call. We are always happy to help. If your desired parking space is no longer available, why not try those at Berlin-Tegel Airport. As Berlin, the capital of Germany, has a particularly high passenger volume, we primarily focus our services on Tegel and Berlin-Schönefeld Airports.