Just a few minutes from the terminal
Free shuttle service
over 3,000 parking spaces
Inexpensive and safe parking - with McParking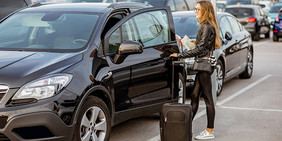 Would you like to start your holiday relaxed and safe or not delay your business trip unnecessarily with a tedious search for a parking space? Then McParking is the right place for you. With us, you can reserve your parking space online before you start your journey and use the convenient shuttle service to the airport. Since the company was founded in 2004, we can look back on over 1,000,000 satisfied customers.
Located at Berlin Brandenburg BER Airport, we can offer you a cost-effective and secure alternative to parking directly at the airport. You also benefit from numerous additional services.
At which airports can I use McParking parking spaces?
The in-house McParking parking spaces are available to you in Germany at Berlin-Brandenburg BER Airport. In addition, you can also reserve parking spaces online with us throughout Europe. Our partner Holidayextras offers you dozens of parking options at other airports in Germany and throughout Europe. This way you can start your holiday relaxed, know the costs in advance and don't have to worry about the safety of your vehicle.
How does booking with McParking work?
Online booking at McParking is uncomplicated and can be done quickly. First, select your desired departure airport and the period during which you would like to park your vehicle with us. Click on the "CONTINUE" button to start the price query and select your preferred offer as well as optional additional features. After entering your personal details, we will reserve both the date and the parking space for you and payment is made conveniently in advance.
Will I always get the same price for my parking space?
We try to offer you the best price for each reservation. However, the actual costs depend on various factors, which is why we cannot always quote the same price. Influencing factors include the time of booking, the parking duration and location, the currently available contingent of parking spaces, the travel season and any selected discounts.
Benefit from our special McParking services
Alongside price, location and security are two of the most important factors when choosing a suitable parking space. That's why we at McParking place the highest value on the quick accessibility of the respective airport as well as the security of your vehicle during the parking period. Each parking area is only a few minutes away from the respective airport terminal, so that the route can be comfortably covered with our air-conditioned shuttle buses. Our trained staff are on hand 24 hours a day, all year round, to ensure that everything runs smoothly on the fenced and video-monitored site. For even more security and convenience, you don't have to leave your key at McParking. If your travel plans change at short notice, you can easily cancel your parking reservation up to 24 hours before use.
If you want to be on the safe side, you can also make use of the McParking money-back guarantee. This includes:
No cancellation fees in case of flight cancellation or other reasons.
No parking and shuttle fees in the event of flight cancellation
Invoicing of the parking period actually used in the event of an early return journey
Book your parking space at the airport directly now. We also offer special options for corporate customers and travel agencies.