Just a few minutes from the terminal
Free shuttle service
over 3,000 parking spaces
Parking at the airport: Cheap airport parking
Whether you are flying on holiday or planning a business trip. In both cases, there are often good reasons to drive to the airport in your own car. For example, because you have a lot of luggage, are travelling with several people or small children. An inconvenient departure or arrival time could make the transfer by public transport inconvenient. Some regional airports have no connection to the public transport network at all. The good news is that all German airports have long-term parking facilities where you can safely park your car for the duration of your journey. If these are not located directly on the airport grounds, a shuttle service provided by the car park operator will take you to the terminal with your luggage and accompanying persons. The advantage here: As a rule, parking outside the airport grounds is significantly cheaper than inside the airport itself.
Below you will find a list of 19 airports in Germany (in alphabetical order) where you can book your parking space directly online.
How it works
Book now
Payments can be made online upon reservation or arrival
Parking
Park your car in our Multi-storey car park near the airport
Shuttle
Shuttle buses will take you to and from the terminal.
Flying
Begin your journey relaxed and stress-free
Your benefits
Low-cost & near the airport
Free shuttle service included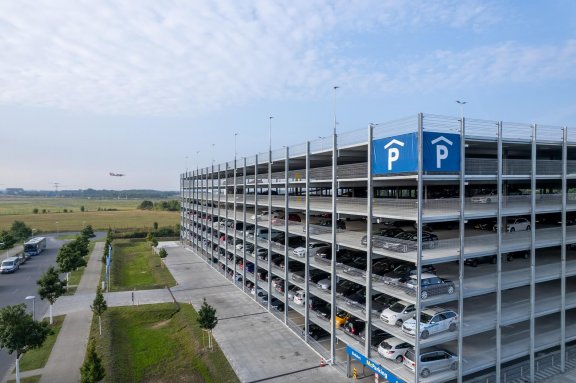 Parking at BER (Berlin Brandenburg Airport)
Park your car cheaply in our monitored and fenced parking spaces, each just a few minutes' drive from Berlin-Brandenburg Airport (BER). Low-cost parking near the airport. We will drive you and your luggage comfortably from our car park directly to the airport. Without any stress.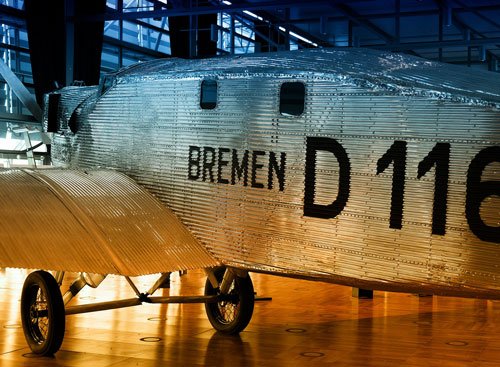 Airport Bremen (BRE)
Bremen Airport (BRE), named after the former mayor Hans Koschnik, is located about 3.5 km south of the city centre in Bremen's Neustadt district. The so-called "City Airport Bremen" can be reached by car via the A1, A27 and A281 as well as the B6 and B75.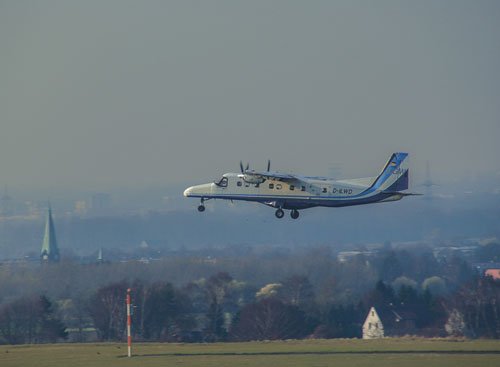 Airport Dortmund (DTM)
"Dortmund Airport 21" is the proper name of Dortmund Airport. It is located about 10 km east of the city centre. Scheduled flights have been landing and taking off at this airport since 1979. You can reach this airport via the A1, A40, A44 and B1 motorways.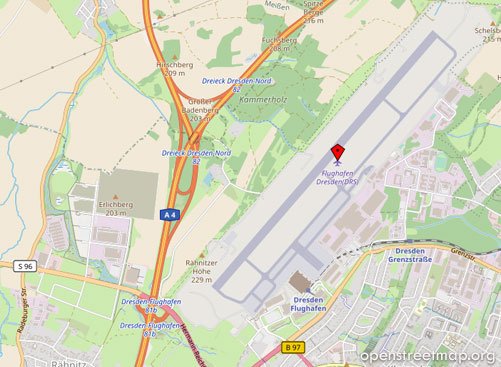 Airport Dresden (DRS)
Dresden International Airport is located about 9 km north of Dresden city centre. You can reach the airport by car via the A4, A13 and B97 motorways. Dresden Airport can handle 3.5 million passengers a year.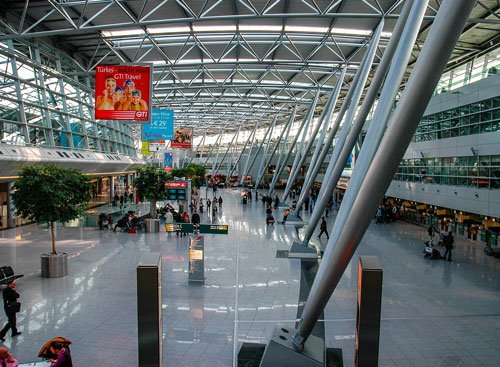 Airport Düsseldorf (DUS)
The "Airport Düsseldorf" is the fourth largest airport in Germany. In 2019, more than 25 million travellers took off and landed here. The site is located about 6 km north of the city centre of Düsseldorf. Access by car can be via the A44 or the B8, or B8n.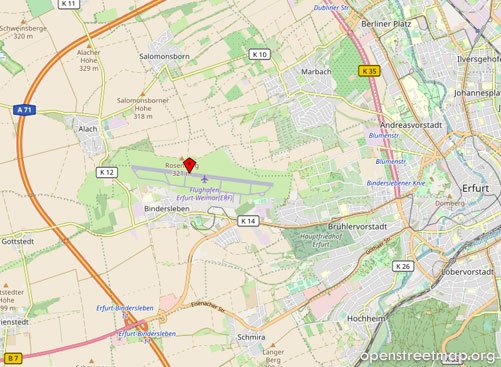 Airport Erfurt (ERF)
Erfurt-Weimar Airport is located about 5 km west of the city of Erfurt. It is the smallest airport in Germany. From Weimar you drive about 30 kilometres to take off. You can reach Erfurt airport by car via the A71 motorway and the B7 trunk road.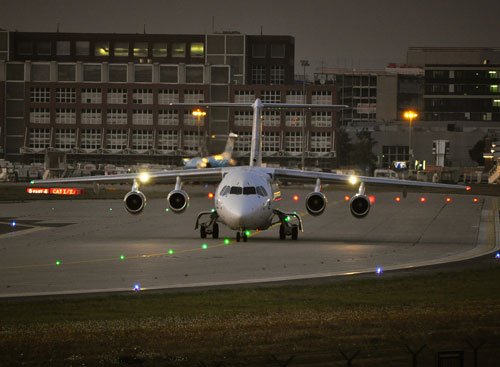 Airport Frankfurt (FRA)
Frankfurt Airport (FRA), also known as Rhein-Main Airport, is the largest airport in Germany and ranks fourth in Europe. It is an international aviation hub served by over 100 airlines. The spacious site is located 12 kilometres southwest of Frankfurt city centre. The terminals can be reached by car via the A3, A5 and B43 motorways. In 2019, Frankfurt Airport handled approximately 70 million passengers.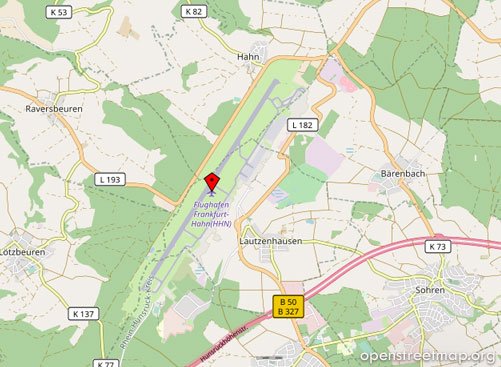 Airport Frankfurt Hahn (HHN)
The former military airport Frankfurt Hahn was first used for scheduled flights in 1993. It is located about 125 kilometres west of Frankfurt am Main. It can be reached via the B50 and B327. Frankfurt Hahn Airport has no connection to the public transport network. In 2019, it still had a passenger volume of around 1.5 million travellers.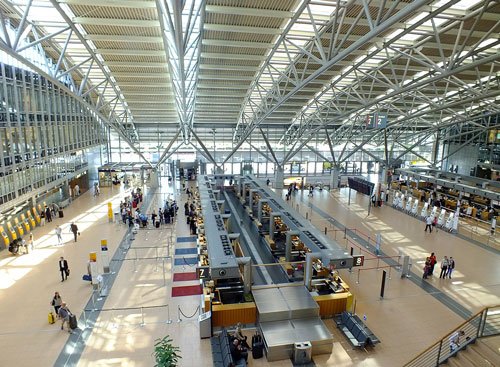 Hamburg Airport (HAM)
"Hamburg Airport Helmut Schmidt is the oldest airport in Germany. It is located about 9 kilometres north of the centre of the Hanseatic city and can be reached via the A7 motorway or the B433 trunk road. The two terminals have a capacity of around 17 million travellers per year.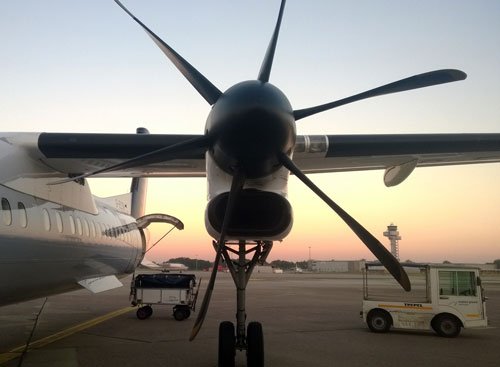 Hannover Airport (HAJ)
Hanover Airport is located 9 kilometres north of Hanover in the area of the city of Langenhagen. TUIfly has its home base here. With a capacity of 10 million passengers, it is number 9 in the ranking of German airports. It can be reached by car via the A352 motorway and the B522.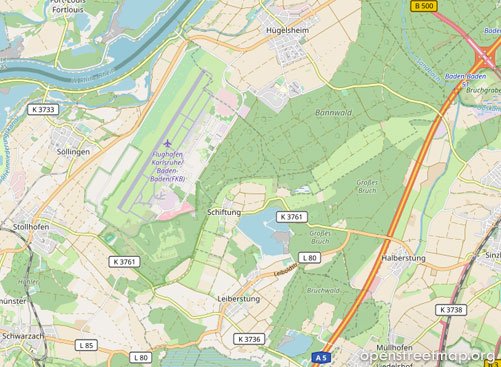 Airport Karlsruhe/Baden-Baden (FKB)
Karlsruhe/Baden-Baden Airport (FKB) is located 40 kilometres southwest of Karlsruhe and 15 kilometres west of Baden-Baden. Travellers can reach it by car via the A5 and the B500. The airport has a passenger capacity of 1.5 million guests per year.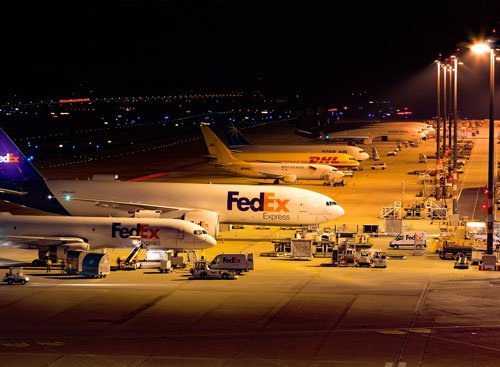 Airport Köln/Bonn (CGN)
Cologne Bonn Airport" bears the nickname "Konrad Adenauer". It is located 12 kilometres south-east of Cologne and 16 kilometres north-east of Bonn. It is one of the few German airports without a ban on night flights. It can be reached by car via the A59 and the B8. Cologne/Bonn Airport has a capacity of 15 million passengers per year.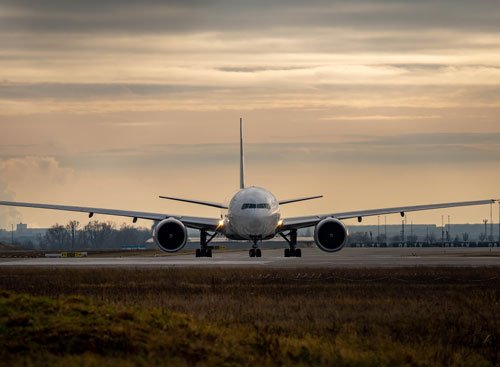 Leipzig/Halle Airport (LEJ)
Leipzig/Halle Airport is also known as Schkeuditz Airport. The terminal is located 16 kilometres northwest of Leipzig and 22 kilometres southeast of Halle. With the ability to handle up to 4.5 million guests a year, it is the eleventh largest airport in Germany. Leipzig Airport can be reached via the A9, A14 and B6 motorways.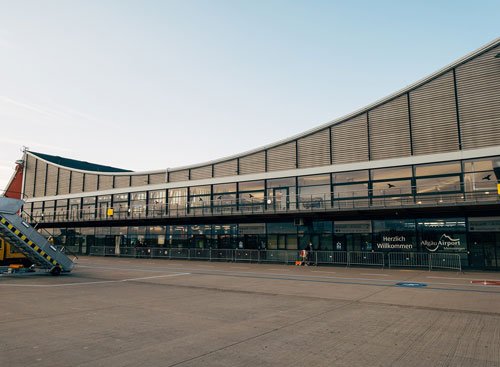 Airport Memmingen (FMM)
Memmingen Airport (FMM) is also known as "Allgäu Airport" or "Memmingen/Munich-West Airport". It is located 110 kilometres west of the Bavarian capital Munich and 4 kilometres southeast of the city of Memmingen. It is not directly connected to the local transport network. It can be reached by car via the A96, A7 or the B300 and B312.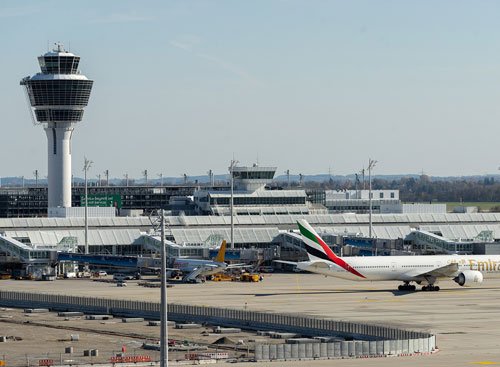 Airport Munich (MUC)
Opened in 1992, Munich Airport (MUC) bears the nickname "Franz Josef Strauß", named after the former Bavarian Prime Minister. It is located in the Erdinger Moos, about 30 kilometres north of the state capital Munich. In 2019, around 45 million passengers were counted. Munich Airport can be reached by car via the A92 motorway and state road 2584.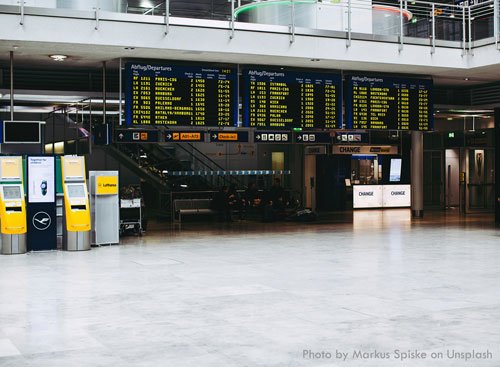 Nuremberg Airport (NUE)
Nuremberg Airport (NUE) bears the name of "Albrecht Dürer", the important German painter who lived in Nuremberg. The airport is located only 5 kilometres north of Nuremberg city centre. The passenger capacity is 5 million travellers per year. The airport can be reached via the A3 motorway.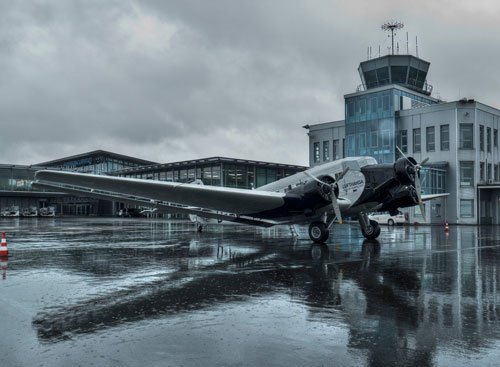 Paderborn Lippstadt Airport (PAD)
The airport with the IATA code "PAD" is located between the cities of Paderborn and Lippstadt. Paderborn Airport had around 40,000 aircraft movements in 2019 and is the smallest of the airports in North Rhine-Westphalia. Passengers can reach the terminal by car via the A44, the B1 and the L776.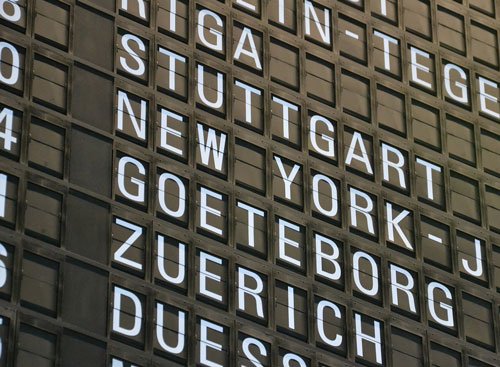 Stuttgart Airport (STR)
Stuttgart Airport (STR) is the largest airport in Baden-Württemberg. It is located around 12 kilometres south of the state capital Stuttgart. In 2019, 12 million passengers were handled. Most flights are operated by Eurowings, Lufthansa, Easyjet and TUIfly. With your own vehicle, the 4 terminals can be reached via the A8 and the B27.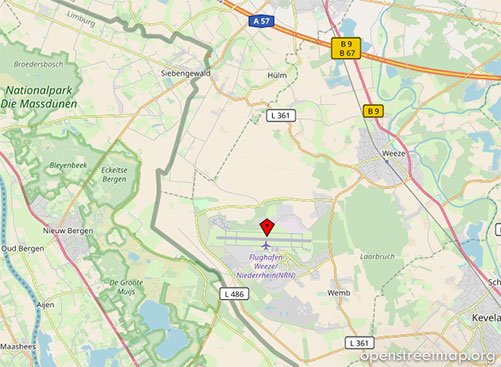 Airport Weeze (NRN)
The airport Niederrhein (NRN) bears the name "Airport Weeze". It is located 90 kilometres north of Düsseldorf, near Weeze, directly on the Dutch border. By car, you can get to the terminal via the A57 and then the B9 federal road. The airline Ryanair accounts for the majority of flight movements.
Customer feedbacks
Klaus Grzesik - 04.12.2023
levent perk - 30.11.2023
Elzbieta Dudzinska - 29.11.2023
" good location, heated waiting room. Restroom available and also heated, which was nice surprise. They send useful reminders and tips. Highly recommend. "
Michael Pugh - 17.11.2023
" Very easy book, park and bus to airport. "
Kamran Vighio Kamran - 04.11.2023
" Everything was smooth and straight forward. Shuttle Bus was also on time. The automatic entry and exit based on the car registration number was also super convenient. "
Alex - 03.11.2023
" Very easy-going experience, highly recommended "
Juliane John - 26.10.2023
" Alles super ohne Probleme auch mit dem shuttle "
Mihai-Marian Luparu - 19.10.2023
" O locație excelentă în care îți poți lăsa mașina în siguranță👍 "
Oliver Koch - 19.10.2023
Robert Urban - 14.10.2023
" Parkhaus toll. Shuttle gut geklappt. Preis Leistung voll okay "
kaleigh santheson - 13.10.2023
Jacek Staroń - 03.10.2023
" Best parking near Berlin Brandenburg. Top service. "
Michael Howard - 23.09.2023
Jarosław K - 08.09.2023
" Very good parking. Easy to get in when license plate is entered to the system. Bus between parking and airport is going at every 20 minutes. Clean toilets easy available. "
Ada - 28.08.2023
" I booked it for the first time and I will not look for another one in the future. Excellent parking, regular shuttle bus every 20 minutes, so you can calculate your arrival time very precisely. Very nice service over the phone. There is a toilet and a customer service point on site. There is a supermarket and a hotel nearby, so you have everything you need for a successful trip. "