Off-airport parking versus airport car park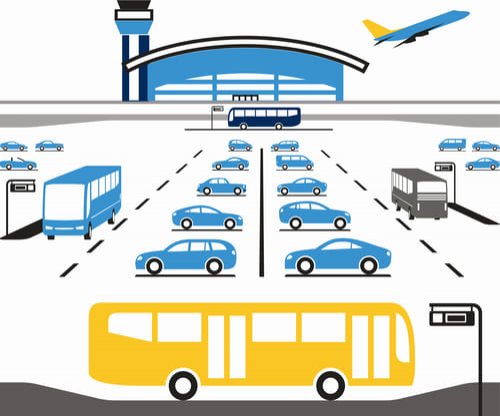 5 points you should consider
Many passengers prefer to travel to the airport in their own car. They want to be independent of family, friends and acquaintances, not have to lug their luggage over long distances and return home as quickly as possible after their flight. Airport operators and off-airport parking providers meet this desire with a wide selection of parking spaces and car parks around the airport grounds. They promise proximity to the departure terminal or transfer service, security of the parking spaces and low costs. But are these promises actually kept? What is the real situation regarding parking around German airports? And what is better, the airport's own car park or the car parks of private providers? We have compared the different offers and providers and compiled the pros and cons for you. You should pay attention to these 5 points when choosing a parking provider at the airport.
1. how far is the walk from the car park to the terminal?
2. is the transfer to the airport secure?
3. what is the security like in the car park?
4. what additional services are available?
5 What does parking at the airport really cost?
How far is it from the car park to the terminal?
The distance to the airport is the most important criterion for most passengers when choosing a car park operator. Airport operators with car parks close to the terminal clearly score the most points here. At many airports there is direct access from the car park to the departure terminal, the distance can be covered comfortably on foot and without a shuttle service. Parking spaces can be booked online in advance. But the number of nearby parking spaces is naturally limited and there are not always enough parking spaces available during the peak travel season.
Proximity has its price
What's more, the cost of parking close to the airport is often many times higher than what off-airport providers charge. And prices for parking close to the airport get higher and higher as the departure date approaches. The earlier you book, the more likely you are to get a parking space and the lower the parking fee. But since this is not always possible, especially for business trips, the cost issue becomes an incalculable factor. Off-airport parking providers, on the other hand, usually offer their parking spaces at fixed fees, so you know exactly what you will have to pay for parking your car. This applies at least if the parking time is not exceeded, i.e. you actually return on time from your business trip or holiday and leave the parking area immediately. Unfortunately, when it comes to additional payments for an overstayed parking period, things are not always fair. But more on that later.
Short distances are not always really short
Parking at the airport can also be problematic if you have relied on the short route to the departure terminal and find out when you arrive at the airport that you have to walk a considerably longer distance with heavy luggage. Booking a car parking space with the airport operator does not necessarily mean that the parking area is in the immediate vicinity of the airport. You may have to use an internal shuttle service and then the time available for check-in, baggage check and security checks can be very tight. However, this also applies to many off-airport parking providers, especially if they do not provide precise information about the distance of the parking area to the airport and the traffic infrastructure around the parking areas.
Longer distances have advantages and disadvantages
While the long distance usually makes parking cheaper, it can cause a significant time problem if, for example, public transport has to be used to get to the airport, the bus stop is difficult to find or the bus has just left and you are already in a big hurry. If you have to take a taxi, the cost advantage is quickly lost. Even if a shuttle service is available, this is no guarantee of a smooth transfer to the departure terminal. The further the distance to the airport, the greater the risk of getting stuck in traffic. For this reason, you should pay close attention to whether the off-airport parking provider states the exact distance of their parking spaces and whether you can make the journey to the airport in a reasonable amount of time.
Another disadvantage can be poorer transport connections to the parking area. A car park located further away from the airport site with a shuttle service does not ensure that you will actually reach your plane on time. It's not just the mileage that matters, but the infrastructure around the car park. For example, if the site is close to a commuter route, there may be significant delays during rush hour. Industrial areas have the advantage that they usually have a motorway junction that connects directly to the airport. Whenever the journey has to be made on busy roads during rush hour, there can be no guaranteed journey time.
2. Is the transfer to the airport secured?

The airport operators are also clearly ahead when it comes to travelling to and from the parking area, at least as long as the parking areas are really close to the departure terminals and you don't have to rely on public transport after all. Then the distances can be covered on foot, so a shuttle is not necessary. In the case of car parks operated by private providers, the distance only plays a subordinate role if the route to the departure terminal can be made in a reasonable time and is really guaranteed. The private provider McParking, for example, uses a regular shuttle service with two large-capacity shuttle buses for this purpose, which takes passengers from the car park to the departure terminal and back every 20 minutes between 02:20 and 00:40. Customers can rely on this time frame and calculate their time requirements from the car park to the terminal accordingly. If the number of passengers is higher, a third bus is used, which further reduces the waiting time. And if necessary, the buses also run longer than the set time. With other off-airport providers, the waiting time can be as long as an hour. This is particularly inconvenient at night or in bad weather.
Convenience first
In addition to shuttle times, you should also pay attention to the comfort of the shuttle buses. Some private providers use buses that are far too small, so it is not uncommon for unpleasant scenes to occur when boarding. Who was there first and is allowed on? Who has to stay outside and wait for the next bus? The bus driver can rarely answer this question; he is only driving and does not know which passenger has already been waiting at the bus stop and for how long. Besides, it is not very pleasant to have to sit or stand shoulder to shoulder with strangers in a crowded bus. Anyone who uses public transport to get to work knows this problem well. For the way to your holiday, you wish for a more pleasant way to travel. This also applies to the journey to the airport, especially if one deliberately starts the journey in one's own vehicle for reasons of comfort. Travellers have enough stress as it is. Therefore, before booking your car park, be sure to find out which shuttle bus they use for transport. Airport transfers are only really comfortable in large, low-floor shuttle buses.
This is what "individual transfer service" means
Another problem that can arise with off-airport parking providers is a shuttle service that has to be called when passengers arrive at the parking area or return from their trip and want to be taken to their car. This is often the case when the provider advertises a "personalised transfer service". This means that the bus will only leave when you call. However, this is not guaranteed. In fact, some providers make their customers wait until the bus to or from the airport is full. Here the advantage of a regular shuttle service is obvious. As the name suggests, the shuttle runs regularly even if only a few passengers wish to travel. McParking offers an online shuttle map where customers can track the buses used from their mobile phones. This way, they can see exactly where the bus is at the moment and estimate when it will arrive at the stop.
3. What is the security like in the car park?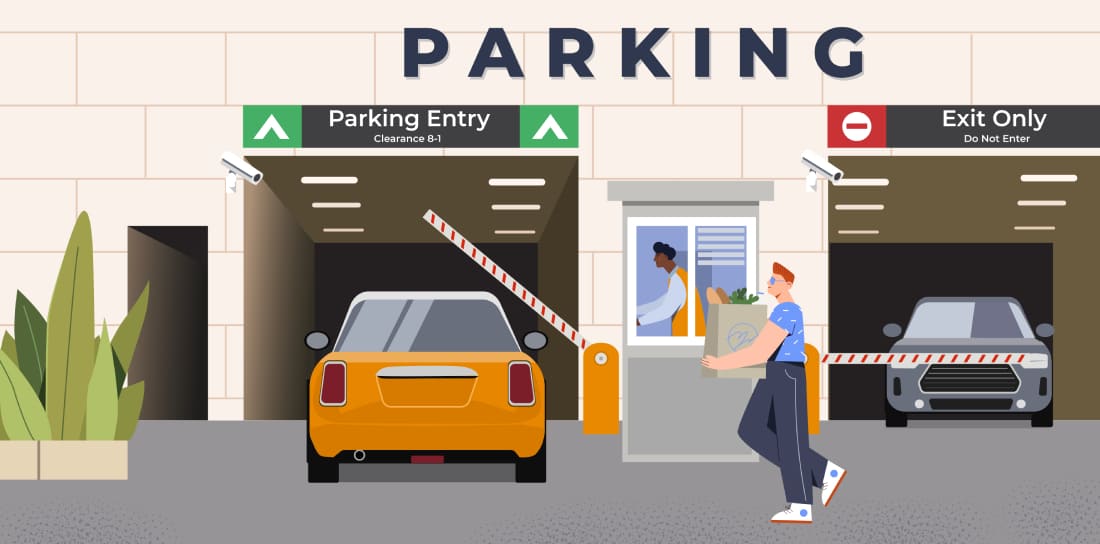 Another important aspect when comparing parking providers is the security of the vehicle while the owner is away. After all, you don't want to experience a nasty surprise when you return to your vehicle from your flight with the whole family.
Video surveillance alone is not enough
Most parking areas are fenced off, and a code is required for entry and exit, which the operator issues automatically when you book online. Video surveillance is also standard in most car parks. But that alone is not always enough. For example, if the car is left unlocked or a window is left open, a reliable security service is needed to detect the problem and do something about it. In such cases, McParking's security service tapes off the window so that unauthorised persons cannot gain access too easily. If a vehicle is unlocked, the security service will keep a special eye on it. If the key has been handed in, he will of course lock the vehicle properly. In addition, the trained guards make regular patrols and thus provide additional security. However, this is by no means the case with all car park operators, regardless of whether the car parks are operated by airport operators or private providers.
Other important security aspects
A well thought-out security concept is also characterised by the fact that a contact person from the car park operator is on site. And that around the clock, seven days a week. This not least increases the car park customers' personal sense of security, which is also known to play a major role in the use of car parks. In addition, the staff can answer questions and provide assistance in case of problems.
Enough space even for extra-long vehicles
Video surveillance can usually be used to identify the culprit in dreaded car park crashes. However, it is more advantageous if the parking spaces are large enough to prevent accidents from happening in the first place. SUVs or extra-long vehicles in particular need sufficient space to manoeuvre. This also contributes to greater safety. The only thing is that generous parking spaces reduce the overall supply of parking spaces and thus the revenue opportunities of the operators. For this reason, the parking spaces in many multi-storey car parks are close together, so that parking in and out can definitely become a problem.
Handing over keys, yes or no?
It is a matter of trust to leave your car key with the car park operator. This is not mandatory with all operators. However, some use the keys to provide additional parking space by simply moving the vehicles. This adds a few more kilometres to the tachometer, as many a customer has experienced after returning home. However, handing over the key can be quite advantageous, for example if the vehicle is not locked or other problems occur. On the other hand, this of course presupposes that there is always a reliable employee on site in case you return early from your trip and want to collect your key.
Annoying collisions with the access barrier
Entry and exit is also a question of safety. The barrier is usually secured with a code card. A QR code that can be downloaded to a mobile phone with the booking confirmation is quicker and more convenient. The digital code is held out to a sensor at the access barrier from a safe distance. This makes collisions with the barrier system a thing of the past.
Here, too, the off-airport parking provider McParking scores with a special service. The customer's vehicle is recognised by a sensor at the barrier on the basis of the number plate. The barrier opens automatically as soon as the vehicle approaches the barrier. Entry and exit could not be more convenient.
4. What additional services are available?

Another criterion for comparing airport parking operators is the additional services. Here, too, private providers such as McParking score points with their
a 24-hour hotline where a member of staff is always available,
free jump-starting assistance if the vehicle does not start after a long period of parking,
E-charging service,
valet parking,
free toilets.
Additional services are only possible if at least one employee is on site around the clock. As a rule, you won't find such a contact person in the airport's own car parks. And many private providers have at best a shuttle bus driver who cannot take care of the customers' problems because he is usually on the road in the shuttle. Moreover, such services are only free of charge with a few providers; some charge an extra fee for jump-starting, for example.
At McParking, an employee also takes care of the charging of customer vehicles. So you can be confident that your e-vehicle will be ready to go when you return. At the airport's own car parks, there are rarely free charging points and since the vehicle keys cannot be handed in there in principle, no one can take care of charging either. At McParking, key drop-off and charging service can even be booked at a later date.
With some providers, customers can book a valet parking package. This means that you drive up at the departure terminal, unload your luggage and hand over the key and vehicle to an employee of the off-airport parking operator. The employee brings the vehicle to the parking area and, on your return, back to an agreed meeting point.
Toilets are a sensitive issue. For one thing, they are by no means available everywhere, and if they are, their use is rarely free of charge. Some providers even offer their customers only a porta-potty. Here, hygiene leaves much to be desired and the small cubicles are anything but comfortable.
Process optimisation through customer feedback
A good way to compare car park operators near airports is to look at customer feedback. With some providers, customer feedback flows directly into process optimisation. Suggestions for improvement are taken up and implemented. Especially in the case of airport-owned car parks, however, it can take years before improvements are initiated. After all, customer satisfaction should be the top priority. Complaints must be taken seriously and remedial action taken. How quickly customer queries are answered is also a good way to differentiate providers. Insights into how customer opinions are handled are provided by the comments on the providers' websites. Here you can quickly find out how the provider reacts to angry customers, to a special request or need. Unfortunately, politeness and respect sometimes fall by the wayside.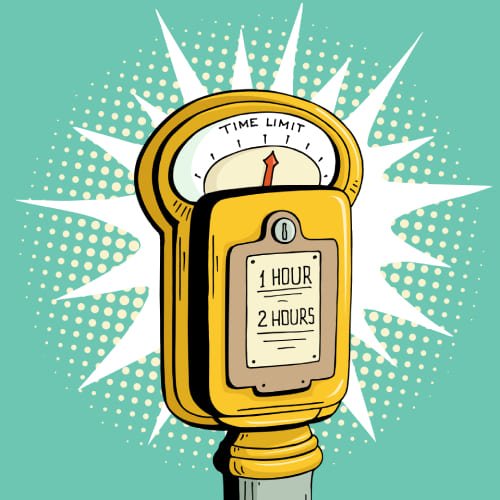 5. What does parking at the airport really cost?
The easiest way to compare parking providers at airports is by looking at the fees they charge. In fact, the costs of the airport's own parking areas and those of private providers are very different. This is the result of a price study for the year 2021. According to this study, up to 90 per cent of the parking fees can be saved if the offers are examined carefully and booked early, but savings of at least up to 50 per cent are realistic. However, this is still a considerable sum when one considers that with some operators the parking fees can become almost as expensive as the holiday trip itself. There are many reasons for these considerable differences in costs. For one thing, inexpensive car parks are quickly booked up, especially during the peak travel season, so customers are forced to use comparatively expensive offers. In addition, some providers like to raise their fees during busy periods. Customers therefore have to compare the daily costs in order to find a cheap parking option when providers raise or lower their fees depending on the occupancy rate.
However, a provider who appears cheap at first glance is not always actually cheap in the end. Additional costs are hidden, for example, in
additional payments for excessive parking times,
failure to pay refunds in the event of flight cancellations,
lack of change and cancellation options.
In particular, additional payments for excessive parking times can become a considerable cost factor. For example, an airport-owned parking operator can charge over 50 euros for a delay of six hours. McParking, on the other hand, only charges the additional fee from the following day. The first calendar day costs ten euros and each subsequent day five euros. And that's it.
It can also be expensive if the parking fee is not refunded in the event of a flight cancellation and you have already parked your vehicle in the booked parking space. Some providers only charge for the parking time actually used and refund overpaid fees. This also applies if the parking space was only occupied for half of the originally booked parking time, for example. With some providers, last-minute changes and cancellations can be made free of charge, while others refuse to do so or charge extra.
Only a few providers give their customers a best-price guarantee. With McParking, for example, customers only need to call if they find a cheaper offer. The off-airport parking provider then matches this price.
Conclusion
Parking a vehicle at the airport should actually be a simple matter. There are numerous parking options around each airport site from a variety of airport-owned and private providers. However, there are considerable differences in terms of distance, security, service and fees. And like everywhere else, there are also black sheep among the private providers who promise a lot and then fail to deliver. Unprofessional providers can be recognised by the fact that they either have buses that are too small, no staff or guards on site, or charge money for the use of toilets. Clear quality features are also fair regulations for cancellations or overstaying the booked parking period, which you can look out for before booking. It is also worth taking a look at the reviews, as you can read the satisfaction of the customers.